Taking big steps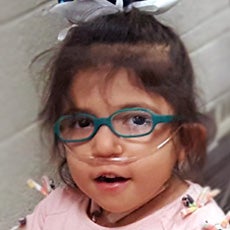 Ariana was born facing an uphill battle. Her many challenges included a rare genetic syndrome, developmental delays, partial hearing loss, and the effects of a stroke. Little Ariana needed an entire team of caring professionals to help her reach essential developmental milestones. Thanks to YOUR support, the Easterseals Rehabilitation Center staff was ready. Now YOU are helping 4-year-old Ariana take big steps toward greater independence!

In weekly therapy sessions, Ariana gains the strength and balance to stand on her own for longer periods. She has progressed from using a walker to taking steps with a single crutch. This inquisitive little girl enjoys checking out her surroundings while riding a tricycle with adaptive pedals through the halls.

Ariana is also improving the use of her left hand, which was affected by her stroke. She builds hand strength and fine motor skills by picking up and tossing objects, doing puzzles, and playing with therapeutic toys.

Communication is another major goal. Regular hearing aid evaluations ensure that Ariana can hear and interact with others. She's working on using signs to ask for what she wants. She has fun imitating animal sounds and word sounds to learn the basics needed for speech.

With YOUR help, Ariana is making amazing progress! She will need her dedicated Easterseals team for years into the future. THANK YOU for being a vital member of that team! Because of caring people like YOU, Ariana will get the support she needs every step of the way.
Follow our link to read more local Easterseals Impact Stories.