"I can't imagine where we would be..."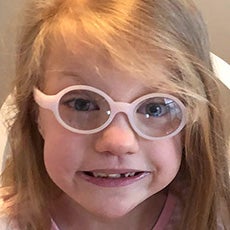 "Easterseals is like family to us." That's how Ella's mom Tina feels about the Easterseals Rehabilitation Center and people who help Easterseals change lives.

Ella is a quiet, sweet, and happy girl who loves her family and animals. She was born with a global developmental delay, cleft palate, heart murmur, bilateral hearing loss, hiatal hernia, and enlarged esophagus. She also has ADHD and vision issues. Easterseals became a part of Ella and her mom's life from the very beginning.

Ella received Easterseals therapies at home (through Indiana First Steps) until age 3, reaching milestones like sitting, crawling, smiling, reaching, grasping, and standing. Ella also received her first hearing aids through Easterseals before she was 18 months old, which opened a new door to learning. From age 3 to 5, Ella thrived in the Easterseals Rehabilitation Center's Mitchell Therapeutic Preschool. She learned skills she would need to succeed in school, while continuing daily sessions with her Easterseals therapists.

Ella is now a second-grader and Easterseals is still a big part of her life. Ella's therapy continued via telehealth to keep her safe during COVID-19 health concerns. Now she's focusing on communication and social skills, like speaking more clearly, using facial expressions and body language to express her feelings and to understand and interact with others.

"Without the community's help, I can't imagine where we would be right now," Tina said. "We have made so many friends (through Easterseals)," Tina said. "It's a huge part of Ella's life and all the activities she does. They all came from Easterseals connections."
Follow our link to read more local Easterseals Impact Stories.