Graduating from big challenges to big dreams!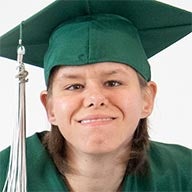 When Haleigh Shadrick was born three months early, she weighed just 10.9 ounces – less than a can of soda. She was the tenth-smallest baby in the world to survive. Haleigh spent months in neonatal intensive care, and leaving the hospital was just the first step on a long road to independence. That's when Easterseals therapists became a part of Haleigh's journey.
Haleigh faced developmental delays, autism, hearing loss, and other challenges. It was an uphill battle to reach every new milestone. The Easterseals Rehabilitation Center was with Haleigh every step of the way. As she grew, Haleigh learned to sit up, crawl, stand, walk, run, talk, and write. Through her own fierce determination, her family's boundless support, and life-changing services from Easterseals, Haleigh reached goals for school and for her own independence.
Haleigh achieved a big dream at age 12, when she learned to ride a bicycle at Easterseals "iCan Bike" day camp. During that one-week workshop, Haleigh progressed through a series of uniqely adapted bikes. She overcame her fears, built her confidence, and improved her balance and coordination. By the end of iCan Bike, she was riding a regular two-wheeler with no adaptations and no assistance! Haleigh's self-esteem skyrocketed and led to her participating in sports of all kinds! Now, 10 years after iCan Bike, Haleigh still loves riding her bicycle with her family and friends. She recently achieved another dream by participating in Evansville North High School's 2022 "Tour de North"—a special day in May when North seniors ride their bicycles to school!
Haleigh also celebrated another huge milestone in May 2022—high school graduation! That's right, she's now a proud North High School grad, looking ahead to new adventures. Easterseals will be cheering her on and empowering Haleigh to achieve new dreams!