Bringing friends together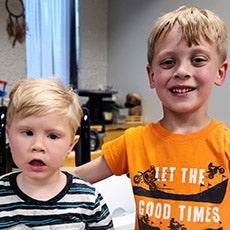 Five-year-old Everett often told his family about having fun with his friend Jacob at the Easterseals Early Learning Center. One day an update from the teacher included photos of the boys playing together. That's when Everett's parents realized that he wasn't just learning skills to succeed in school. He was also learning life lessons at Evansville's only fully inclusive early childhood program–a program that community support helps to make possible!

Everett is a typically-developing child, while his good friend Jacob has cerebral palsy and developmental delays. These buddies might never have met if they didn't both attend the Easterseals Early Learning Center. At Easterseals, they became inseparable.
The Early Learning Center's inclusive environment is designed to meet each child's unique needs as kids of all abilities learn, play, and grow together. Children with delays often make greater progress by modeling the skills of their typically developing classmates, who learn to appreciate friends with differing abilities.
"Everett doesn't look at Jacob as having anything wrong," said Everett's mom Laura. "He just wants to make sure Jacob is included in everything with the other kids. It's just a natural thing for him. And it's something that I really think he'll carry into his future."
Jacob's mom Jenafer said, "It has made life a lot easier, not only because Jacob can get his Easterseals therapy there, but I can tell he really enjoys going. It makes such a big difference knowing that Jacob is being accepted and loved and has a buddy."
Thanks to all Easterseals supporters who make it possible for local children of ALL abilities to enter school ready to learn, thrive, and achieve their greatest potential!
Follow our link to read more local Easterseals Impact Stories.