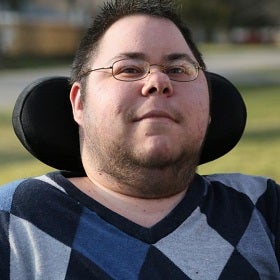 Episode Summary
Podcast: Everything You Know About Disability is Wrong
Episode: Episode 4
Welcome to Everything You Know About Disability is Wrong, a podcast by disabled people for disabled people. But, if you're not disabled, stick around! You might learn something new.
In today's episode, we speak with filmmaker, writer and activist Dom Evans. To begin, Dom shares that he has been in a relationship that is going on 21 years. He shares that he was faced with the "choice" of either getting married or ending up in a nursing home, both options which had negative financial and social consequences. He began to openly discuss that this was an issue of marriage inequality. Disability benefits and healthcare shouldn't be penalized by the amount of money your partner makes. The choice between either getting married or staying alive (i.e. out of a nursing home) is clear. Even if you are not married but are living with a partner, some states count this as a marriage and revoke the persons' disability benefits. Many people don't realize this unjust reality that disabled people have to confront.
Next, our guest highlights the importance of having a strong community around you. There is a huge lack of representation of inter-generational family living situations today. Dom opens up about the things he has witnessed his marginalized friends experience in nursing homes and hospitals. Going into the nursing home is not a joke, but is a very serious thing that we do to our elderly family members. Most people have no idea about the lack of autonomy that happens when we are not in control of where we live. Studies show that for disabled people, going into a nursing home can cut your life as much as 5 years just off the bat. In most instances, people who live in nursing homes witness abuse and are not given the proper amount of care. Unfortunately, many disabled people are forced to stay in abusive relationships just so they don't end up in a nursing home. That is why it is recommended that your caretaker is not your partner.
Before wrapping up, Dom shares his inspiration behind the work he does on a daily basis. His biggest goal is that the younger generations do not experience the discrimination and societal hurdles that he has for his entire life.
Timestamps:
0:52 - Introducing today's guest, Dom Evans.
3:36 - How marriage affects disability benefits.
14:28 - The importance of having a community.
18:07 - The scary reality of nursing homes.
26:40 - How Easterseals provides a community for real people.
30:02 - Hearing more about Easterseals.
31:45 - Why does Dom do the work he does?
44:20 - The "ask us anything" segment of the show.