A lifetime of independence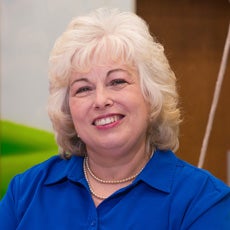 Sandy Ford's life-long relationship with Easterseals started when she was just 3 years old. As a child with cerebral palsy, Sandy needed help learning to walk. She took her first steps at the Easterseals Rehabilitation Center in Evansville, and thanks to generous supporters like YOU, she's been reaching goals for independence ever since.

After extensive orthopedic surgeries as a teenager, Sandy learned to walk again at Easterseals. She also gained the confidence to achieve dreams of driving, attending college, and becoming a nurse. "Easterseals gave me courage and inner strength to reach out for an independent life," she said.

When Sandy was in her early forties, her son was born. She faced extra challenges as a mom with a disability. Easterseals helped Sandy adapt and learn new ways to care for her little boy.

In her fifties, Sandy went through surgeries for cancer and back problems, resulting in chronic pain. She discovered the fully-accessible warm-water therapeutic pool at the Easterseals Rehabilitation Center, and it has made all the difference. "The warm water pool is the only place I can still walk independently," Sandy said. "It is my own private heaven."

It is ONLY because of YOU that the Easterseals Rehabilitation Center continues to be here for Sandy! She is now retired and enjoys time with her grandchildren, traveling with her husband, and exercising with her pool friends. "The therapy, education, physical and emotional support throughout my life has allowed me to reach lifetime goals... as an RN, homeowner, wife, mother, grandmother, friend, and now retiree... I've achieved them all!"

THANK YOU for making it possible for Sandy to continue reaching goals for independence and achieving new dreams!
Follow our link to read more local Easterseals Impact Stories.