A future so bright...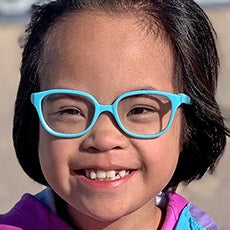 Joy is a happy, energetic 9-year-old from Newburgh who's working toward a bright future. Sometimes the work isn't easy, because Joy has Down Syndrome, but she also has the most amazing attitude! When that positive outlook is combined with Easterseals services, Joy is empowered to achieve her own goals and dreams!

When Joy started Easterseals therapy four years ago, she was using one or two-word phrases to communicate, and her speech was difficult to understand. She struggled to print letters and numbers. It was hard for her to make progress in school or communicate with friends and family.

Now Joy is a very social second-grader who speaks and writes using complete sentences! Her speech is much easier to understand and continues to improve each week. Joy is reading simple books and doing simple addition and subtraction.

Not only is she achieving goals for school, Joy is also working toward another big dream: She's learning to swim in the Easterseals Rehabilitation Center's fully-accessible warm-water therapeutic pool–and she loves it!

"Easterseals is a place where every client is valued, where families are supported, where goals are met and steps toward independence are celebrated," said Joy's mom Amy. There are many other important goals in Joy's future, and Easterseals will be here to help her achieve and celebrate them, thanks to generous support from the community.
Follow this link to read more local Easterseals Impact Stories!