Caydence: Learning to communicate!
Imagine knowing what you want to say, but being unable to speak the words. Every day, four-year-old Caydence lives with the frustration of struggling to express his thoughts, feelings, wants and needs. But thanks to speech and language therapy at the Easterseals Rehabilitation Center, Caydence is learning to communicate!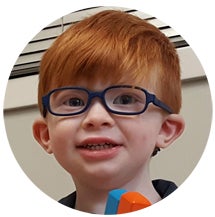 Caydence was born with a genetic condition that interferes with messages traveling from his brain to the muscles in his lips, tongue and mouth. Stephanie, an Easterseals Speech/Language Pathologist, has been working with Caydence since he was two years old. "Caydence learns very quickly," Stephanie said, "and he has such a desire to communicate with others!"
Teaching Caydence sign language helps him express himself while he is still learning to speak. "Caydence has increased his vocabulary from just a few signs to well over 50, and now we're working on combining two signs," Stephanie said.
Learning to verbalize words and speak in sentences will be a long, challenging process for Caydence. Stephanie uses toys, games and activities on an iPad to motivate him to imitate word sounds. She also works with his very supportive family so he can continue his progress in between therapy visits. Every new sound is a reason to celebrate, because it brings Caydence one step closer to talking!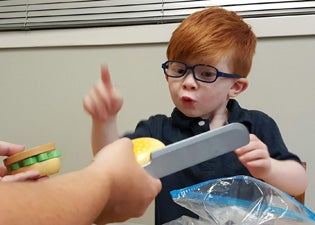 Because of caring people like you, we will be here as long as Caydence needs us. On behalf of Caydence, his family, and everyone at the Easterseals Rehabilitation Center, we say THANK YOU!
Follow our link to read more local Easterseals Impact Stories.