Easterseals National Leadership Team
Angela F. Williams
President and CEO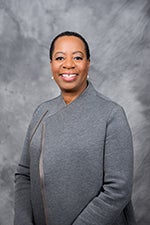 The Board of Directors of Easter Seals, Inc. (Easterseals) announced the selection of Angela F. Williams as its President and Chief Executive Officer on November 28, 2017. In this role, Williams will lead the national organization as it approaches its 100th anniversary in 2019 as the country's leading nonprofit provider of services for people with disabilities, including Veterans, and their families.
Williams has 30 years of leadership experience in the nonprofit and corporate sectors, most recently serving as Executive Vice President, General Counsel and Chief Administration Officer at YMCA of the USA (Y-USA), the national resource office for the Y, where she was instrumental in shaping strategy and developing resources to help 2,700 YMCAs across the country enhance outcomes for youth and families in 10,000 communities.
Connect with Angela: LinkedIn | Twitter
Ron Ekstrand
Senior Vice President, Network Advancement
Ron Ekstrand leads both the Affiliate and Network Advancement Department and the Information Technology Department. The Affiliate and Network Advancement Department is responsible for supporting the network of Easterseals' affiliates that deliver exceptional services to people in communities across the United States. His areas of responsibilities include recruiting new affiliates, facilitating the sharing of best practices amongst affiliates, and providing benchmarking data to improve affiliate performance. The Information Technology Department provides support for the operations of the national office and is evolving to establish network-wide direction on national data platforms to share best practices and improve performance and impact. Ron has also lead the Strategic Visioning Initiative facilitated by The Bridgespan Group that is focused on enhancing the impact and sustainability of the network and on improving the support that the national office provides affiliates.

Ron joined the staff of Easterseals national office in April 2016 after spending eight years working at the affiliate level of Easterseals. He spent four of those years as the CEO of TouchPoint Autism Services, the largest provider of autism services in the state of Missouri. As CEO of TouchPoint, he lead a financial turnaround of the organization, its merger with another nonprofit, and a subsequent affiliation with Easterseals to create the affiliate now known as Easterseals Midwest.

Prior to his work at Easterseals Midwest, Ron spent nearly twenty years working as an executive leader and management educator for organizations in the insurance, financial management, consulting, and healthcare space including: Edward Jones, BlueCross BlueShield of Missouri, Humana, and Ernst & Young. As an adjunct faculty member, Ron has also taught graduate level courses on nonprofit mergers and collaborations at Webster University and on service excellence and total quality management at Washington University where he also received his MBA. He is a graduate of Illinois Wesleyan University and the proud father of seven children.
Julie Hubbard
Senior Vice President, Finance
Julie Hubbard is Sr. Vice President – Finance for Easterseals headquartered in Chicago. She joined the organization in January 2016. Julie is responsible for the financial matters of the organization and oversees the department of finance, accounting, budgeting, tax, and consolidation of Affiliate data. She works closely with the organization's Finance and Audit committees of the Board of Directors.

Prior to joining Easterseals, Julie served as the CFO for the Spencer Foundation. The Spencer Foundation's mission is to promote educational improvement through fostering purposeful scholarly inquiry into matters of educational significance. Julie was responsible for all financial operations of the $500+ million private foundation. Julie also served as the Treasurer to all of Oprah Winfrey's philanthropic entities, where she was responsible for all financial and investing operations of the public charity, private foundation, and operating foundation.

Julie started her career in corporate finance and worked at Procter & Gamble and Kraft Foods for thirteen years. Julie made the transition to the nonprofit sector in 2005 to fulfill her objective of making a positive change in the world. Ms. Hubbard has an MBA from the University of Chicago Booth School of Business with a concentration in finance and economics. She completed her undergraduate work in Business/Economics at Alma College in Alma, MI. Julie spent three years as an auditor at Ernst & Young, LLP and is a Certified Public Accountant (CPA).

Julie is on the finance/audit committee of Forefront (formerly the Donors Forum of Illinois). She is also on the Board of Directors of the Art WORKS Projects. She is an active volunteer for Chicago Lights tutoring program. She is on the President's Action Coalition for Alma College.
Bill Fehrman
Vice President, Development
Bill Fehrman is the Vice President of Development for Easterseals National Office. His areas of responsibility include all activities related to individual donors including: direct mail, annual giving, major gifts and planned giving. Bill has a key role in the Easterseals Development Leadership Network and is a member of the core team working with the Bridgespan Group on Easterseals' network transformation.

Prior to joining Easterseals, Bill was Director of Individual Giving at the American Academy of Pediatrics. During his six years at the Academy, Bill cultivated some of the largest donations in the history of the organization from corporate, foundation and individual donors. Prior to the American Academy of Pediatrics, Bill was Director of Development at the American Brain Tumor Association, Director of Major Gifts at the University of Illinois and Assistant Director of Corporate and Foundation Relations at Loyola University of Chicago.

Bill has an undergraduate degree in Philanthropy Studies from DePaul University and is a graduate student in DePaul's School of Public Service studying the connection between nonprofit advocacy and fundraising results. Bill is a member of the Association of Fundraising Professionals (AFP) and serves on the Membership Committee of the AFP's Chicago Chapter. As a board member of the Illinois Campaign for Political Reform, Bill is working to promote integrity, accountability and transparency in state government.
Sharon Watson
Vice President, Brand Marketing, Communications and Corporate Relations Department

Sharon Watson leads Easterseals' Brand Marketing, Communications and Corporate Relations Department.

In this capacity, Sharon works with the organization's staff, affiliate and volunteer leadership to develop strategy and assure execution of same to amplify awareness of Easterseals' brand and its societal relevance in the world as the indispensable resource for people with disabilities and those who care for them. Additionally, she and her team are charged with leveraging new and traditional communications and media channels to position Easterseals as a leader in the disability space to assure continued support from donors including valued corporate partners committed to the organization's mission.

During her tenure with Easterseals, Sharon has helped generate tens of millions of dollars to support its mission as the national relationship manager for valued National Corporate Partners including A. C. Moore, Bayer Consumer Healthcare, Comcast NBCUniversal, the Comcast Foundation, CVS Health, the CVS Health Foundation, MassMutual Financial Group and others. Her relationships with affiliates help assure their ability to strategically leverage opportunities aligned with these partners in local communities nationwide.

Prior to joining Easterseals, Sharon enjoyed more than a dozen years in sales, marketing and public relations for global corporations including ITT Sheraton Hotels and Scandinavian Airlines. She is the proud mother of Patrick, a Chicago-based labor attorney, and Maggie, an educator with the Kipp Network.
Jed Johnson, MBA, MSW
Vice President, National Programs
Jed Johnson joined Easterseals in 2000. Initially he provided strategic leadership nationally supporting affiliates in the delivery of adult and senior services. Jed went on to head two Easterseals federal projects serving as the Director of the National Center on Senior Transportation followed by directing the National Veteran Caregiver Training Program. Jed joined Easterseals' leadership team in 2015 with an expanded role and now oversees a $25M portfolio of federal, foundation and corporate-funded initiatives supporting Easterseals affiliates including the Senior Community Services Employment Program and Easterseals Transportation Group.

Prior to joining Easterseals, Jed worked for 10 years in the greater Pittsburgh area as Vice-President of Home & Community Services for a faith-based long term care provider. He has also held various management/administrative roles for a Baltimore-area residential services provider for persons with intellectual/developmental disabilities, for a large AIDS services organization; and for one of the nation's largest Area Agencies on Aging serving the greater Philadelphia region.

At the national and local level, Mr. Johnson currently serves in leadership roles with CARF's International Advisory Council, Elizabeth Dole Foundation Impact Forum, PsychArmor Caregiver Advisory Committee, ARCH Advisory Committee to the Lifespan Respite Technical Assistance Center, Oberlin College Alumni Association, and Rockville United Church.

Mr. Johnson holds a joint-master's degree in business administration from the Wharton School of Business and in social work from the University of Pennsylvania's School of Social Policy and Practice. Jed and his husband, Jim, reside in Montgomery Village, Maryland.