Stories of Hope
Behind every person with a disability is somone who loves them... behind them is Easterseals.
Meet 3 year old Eonna and her mother Brittany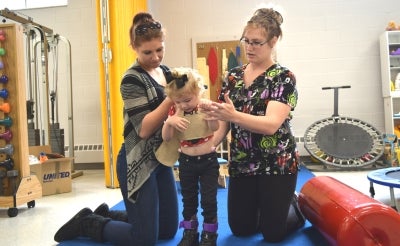 Eonna loves animals and food. She has 3 older brothers. She is also supported by her grandparents and, of course, her mother Brittany. Eonna has ALG13-related epilepsy, also known as early infantile epileptic encephalopathy type 9 (EIEE36), which is a genetic early infantile epileptic encephalopathy. ALG13 is characterized by infantile onset of seizures and developmental delays. Thus far, disease-causing variants in ALG13 have been reported in fewer than 20 individuals, so the full disease spectrum is not yet understood.
Eonna has just celebrated her 1 year anniversary with Easterseals. Before coming to Easterseals Brittany was told Eonna would never get any better and would not make any more progress. But Brittany did not give up and chose to seek out alternative options for her daughter. This brought her to Easterseals where she receives Physical, Occupational and Speech therapy. When asked what it means to have Easterseals with her on this journey she simply stated, "Everything".
Progress Toward Milestones
Since attending Easterseals, Eonna has made significant progress toward therapy goals in her year with us. "She started working on different milestones like being able to grip with her hands, interact with toys, eat solid foods, sit by herself and stand with assistance," says Brittany. Brittany is working with Easterseals on Eonna's next big goals. In fact, Brittany hopes Eonna will be able to feed herself, crawl, and be able to stand and walk with help.
Beyond the Physical Milestones
When asking Brittany what you would tell others about Easterseals, "Easterseals therapists are amazing. They create a connection with clients and families. Eonna knows all her therapists and is excited to come to Easterseals. It is like family."