Partners
M & M Golf Classic
Mike & Mark Sahli presented a check for $1,500 from their 19th annual M & M Golf Classic to the Angels of Easter Seals. This year 144 golfers participated in this scramble golf tournament which was held on September 3, 2017 at the Mill Creek Park Golf Course. Mike and Mark founded the M & M Golf Classic to benefit local charities throughout the Mahoning Valley.
"Easter Seals is a great organization that we are lucky to have in this community. The assistance they provide to the children and adults in our area is so valuable," stated Mike Sahli. "Mark and I would like to thank everyone who helped to make this donation possible."
Clients of the Easter Seals Skill Development Program located at 721 Boardman-Poland Road were in attendance for the check presentation. This program serves adults 18 years of age & older with Autism Spectrum Disorder or related diagnosis and helps the clients build life skills, social skills, and provides them with educational opportunities.
Included in the photo from left to right are Mike Sahli, Georgeann, President of the Angels of Easter Seals, Lynn, former president of the Angels of Easter Seals, Tim, Easter Seals President & CEO, Joey, Skill Development Client, Dan, Skill Development Assistant, Danielle, Skill Development Client, Mark Sahli and David, Skills Development Client.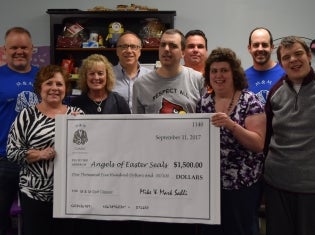 Commitments to Easter Seals
Look closely at what makes Easter Seals unique from other health and human services providers, and it becomes clear: Easter Seals' greatest strength comes from the people who are Easter Seals. Relationships between therapists and clients, between teachers and preschoolers, between staff and parents, and between volunteers and staff. Helping children and adults with disabilities gain greater independence involves whole individuals, whole families and support systems.
Corporate sponsors, volunteers, staff, and national representatives share their commitments to Easter Seals and creating solutions that change the lives of people with disabilities.