Summer Day Camp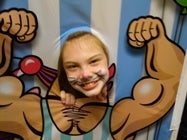 Easterseals offers TWO Summer Day Camp Options focused on providing a safe and caring environment throughout the summer for kids with and without special needs, throughout the summer months.
We strive to help prevent the "summer slump," when kids sometimes find themselves forgetting the school routine. We structure the day to be similar to a school schedule but in smaller time increments. Our camp days are filled with fun activities like arts and crafts, hands-on learning, group games, outdoor play, and self-directed play time. This structured setting is designed to make sure that campers don't lose the progress they've made in school the previous year.
We incorporate a weekly theme that gives campers the chance to learn about the world around them through creative play and exploration!
Summer Day Camp Facts - Hilliard
Our summer camp in Hilliard is offered to children with and without disabilities, for a program flyer click here.
Who: Camp is open to children ages 3 to 14; Easterseals is unable to provide aides to campers who require one on one supervision.

When: June 11th to August 3rd, 2018, Monday through Friday from 9am - 3pm. After hours latchkey care is available from 3 - 5pm. Latchkey services are payable through private pay only.
Where: Camp is located at Easterseals Central and Southeast Ohio, 3830 Trueman Court, Hilliard, Ohio 43026
Cost: The cost varies depending on the age of the camper. We accept IO waiver, Level 1 waiver, and private pay. Morning and afternoon snacks are included in the cost of camp. Lunch must be provided by the family.
Transportation: We do not offer transportation to or from our camp.
Summer Day Camp Facts - Grove City, for a program flyer click here.
Our summer camp in Grove City is open to children who attend the Southwestern City School district, whose families receive TANF benefits (cash assistance, food stamps, etc).
Who: Camp is open to children ages 5 to 13; children must have completed kindergarten
When: June 11th to August 3rd, Monday through Friday from 9am - 3pm
Where: West Franklin Elementary School, 3501 Briggs Rd., Columbus, OH 43223
Cost: Free for families who qualify for TANF benefits; this includes a morning snack, lunch, and an afternoon snack. This also includes weekly outings and special activities such as bowling, movies, hiking, COSI, and the Columbus Zoo. This camp is funded by the Franklin County Board of Commissioners and administered by the Franklin County Department of Jobs and Family Services.
Transportation: Bussing to and from camp is available within 3-4 miles of the camp location; families living outside of thie area will need to provide their own transportation to and from camp.
Register your child today for Easterseals' Summer Day Camp. Space is limited!
For a camp application, please contact Christopher Smith at csmith@easterseals-cseohio.org or 614-228-5523. Applications are also available at our Hilliard office.