Center for Better Hearing
Three locations to serve you:
22 Tompkins StreetWaterbury, CT 06708Phone: 203.754.5141

690 Main Street South, Suite 4

Southbury, CT 06488Phone: 203.262.1851
158 State StreetMeriden, CT 06450Phone: 203.237.1448
The Easter Seals Difference
Easter Seals Center for Better Hearing has been serving the greater Waterbury community since 1969. We focus on meeting the unique hearing needs of our patients. Our highly skilled board certified audiologists evaluate your hearing and work to find you a solution for your hearing difficulties. Easter Seals Center for Better Hearing provides:
•

 

Expert patient-centered hearing care
•

 

Diagnostic hearing evaluations for all ages
•

 

State-of-the-art hearing technology for every budget
•

 

Interest-free payment plan options
•

 

Assistive listening technology
•

 

Custom hearing protection, musician's and swimmer's ear


About Digital Hearing Aids
Because each individual has different hearing needs, your hearing solution needs to be as unique as you are. Digital hearing aids are customized to match the exact hearing profile of the hard-of-hearing individual. Digital technology delivers clearer sound quality and better speech understanding.

About Hearing Loss
One out of every 10 Americans has a hearing loss.
Causes of hearing loss include:
• Trauma to the ear, for instance, from exposure to loud noises
• Medical conditions including ear infection and excessive ear wax
• Hereditary factors
• High levels of certain medications


Why Choose an Audiologist?
Audiologists are hearing health care professionals uniquely qualified to evaluate all types of hearing loss and manage hearing losses that cannot be corrected with medical or surgical intervention. They possess either a master's or doctorate degree in Audiology, the science of hearing.
Call today to schedule a hearing evaluation with one of our board certified audiologists. All of our Hearing Centers have ample, off-street parking and convenient, first-floor accessibility.
Annette A. Burton, Au.D., CCC-A, FAAA  
Kay Yanagisawa, Au.D., CCC-A, FAAA
Allison G. Phipps, Au.D., CCC-A, FAAA  
Samantha Hauser, Au.D., CCC-A, FAAA  
Easter Seals Center for Better Hearing participates with most insurance/HMO plans and agencies.
For more information on our Audiology and Hearing Aid Services, please click here to contact us.
---
Meet Grace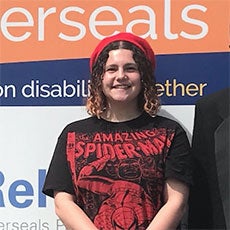 Grace H, from Newton CT, is a bubbly, kind, intelligent girl who has been attending the Easterseals Center for Better Hearing for 7 years. Since she started her journey at Easterseals Grace has been seeing Dr. Kay, an audiologist who has played an integral part in Grace's speech and language development as well as her hearing needs. This year she will be attending MassArt to pursue her passion for art, something that she has been dreaming about since she was a child. Grace says, "When I do art, I try to create with a purpose and to evoke emotion for the viewer". Easterseals is proud to support Grace with this next stage of her life by granting her a scholarship so that she can go to MassArt and achieve her goals.