Children's Academy
Now Enrolling!
Easterseals Children's Academy and Children's Center are currently enrolling children 2.8-5years of age in the Full-Day/Full-Year Preschool-School Readiness program at all locations.
Health:
The Children's Academy and Children's Center have taken every measure to ensure the safety of the children and staff. Guidance has been provided by the Department of Public Health, CDC, OEC, the Nurse Consultant and the Physician Consultant. The program will follow all Ordinances from the Governor's Office.
It is important to know that staff will diligently follow health and safety protocols. In addition to the health checks, staff will use personal protection and handwashing, wash and disinfect materials, toys, furniture and flat surfaces throughout the day. The janitorial staff will clean and disinfect the classrooms and common areas of the building daily.
Please be advised that your child will not be able to attend the program if he/she has a temperature of 100 degrees or higher, and/or other symptoms such as, but not limited to, coughing, shortness of breath, diarrhea, vomiting, body aches, chills, or if your child has been exposed to any COVID 19 symptoms at home. Health checks at arrival will be conducted by a trained designee until further notice.
Face Masks: Child face masks are required for children 3yrs of age and older.
Meals: Breakfast, lunch, and afternoon snack are provided daily, at no additional cost.
Tuition Fees: Tuition fees are calculated on a sliding-fee scale based on gross annual earnings and family size.
For additional information please contact the Site Managers listed below:
Children's Academy East Campus, 128 Avenue of Industry, Waterbury
Site Manager, Pamela Anderson-Ketcham, 203-591-1814 ext#3, panderson@eswct.com
Children's Academy West Campus, 22 Tompkins St, Waterbury
Site Manager, Rebecca Demaida, 203-754-5141, ext#255, rdemaida@eswct.com
Children's Center, 172 Grandview Ave, Waterbury
Site Manager, Gail Gatling-Ellison, 203-437-8969 ext#238, ggatling-ellison@eswct.com
Children's Academy Meriden Campus, 125 Broad St, Meriden
Site Manager, Glenda Duke, 203-686-1438 ext#1, gduke@eswct.com
---
Maggie Calo's Children's Academy Success Story
The first day of preschool is a big milestone in every child and parent's lives. Maggie Calo recalls her first day of preschool and the eagerness and excitement she felt in anticipation of meeting new friends and teachers. When she arrived on her first day, she ran into the classroom without hesitation and began to play and make new friends right away.
Maggie attended Easterseals Children's Academy School Readiness program in 2006 and was part of the very first graduating class! She is now preparing to graduate from high-school and she recalls how her early learning experiences helped to shape her into the woman that she is today.
Easterseals Children's Academies and Children's Center provide valuable early childhood services for children from ages 6 months to 5 years old to over 300 families in our community each year. We believe every child deserves a strong start in life through quality programming. Our school readiness programming supports essential child development skills, with a talented staff that strives to develop language, reasoning, problem solving and social skills and promote emotional, physical and cognitive growth. Easterseals impacts people where they need us most – school, work, home and in their community. A report issued by the U.S. Department of Education says that not every child is ready for kindergarten or for success, and that "starting out from behind can trap them in a cycle of continuous catch-up in their learning." We believe that the first five years of a child's life is critical and we are here to provide support and lay the groundwork for success.
Jaime Calo, Maggie's mother, knew that Easterseals School Readiness program was the best place to prepare her daughter for kindergarten success. "Not only did school readiness appeal to me, but I also wanted my daughter to be in a place where she could build relationships with children who may look different than her" said Jaime. Easterseals Children's Academy has a diverse student population and invites all children with any ability to enroll.
Maggie is grateful for the lessons she learned at Easterseals Children's Academy that helped shape her to the well-rounded student she is today. She says, "The structure helped me to develop healthy social and emotional skills and have led me to want to study Psychology. Maggie will be attending UCONN in the fall and will continue to build upon her education that began with Easterseals.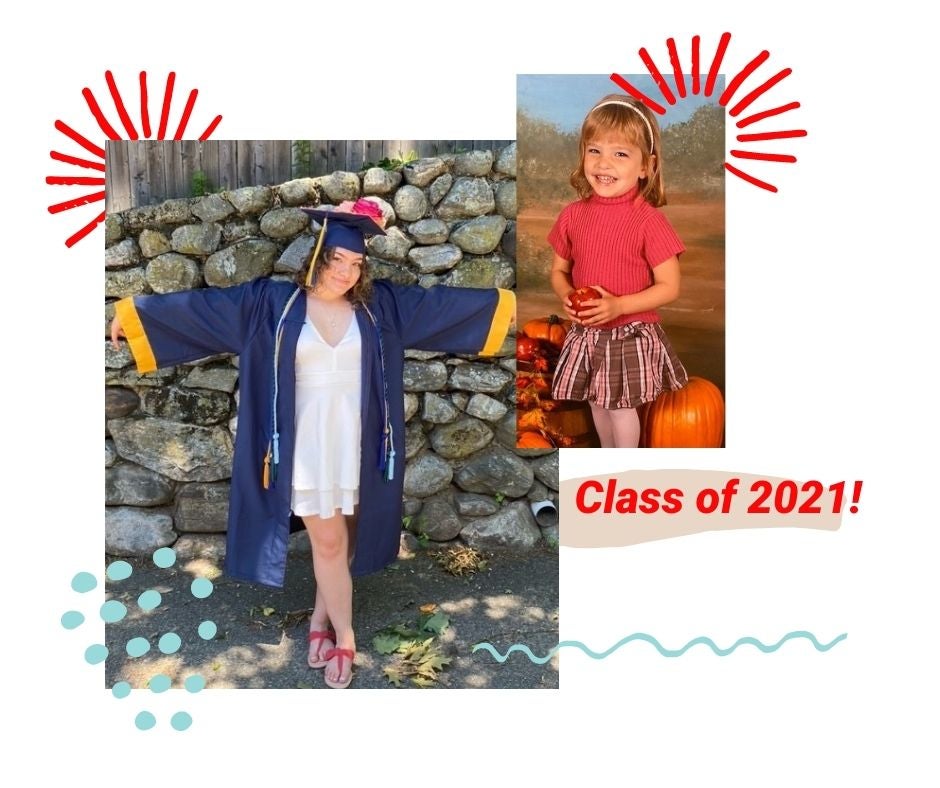 ---
Children's Academy Information
Children's Academy provides an inclusive, high quality early care and education that promotes a child's social, emotional, physical and cognitive growth. We offer a full day, year-round program, parental support and a School Readiness program to prepare children for Kindergarten success. Children's Academy is accredited by the National Association for the Education of Young Children (NAEYC).
Each state-licensed facility features: developmentally appropriate curriculum; certified staff in CPR/First-Aid, and an all-accessible playground with skid-proof surface and tricycle track.

Children's Academy/Children's Center locations:
West Campus22 Tompkins StreetWaterbury, CT 06708Contact: Rebecca DeMaida, 203.754.5141 ext. 255, rdemaida@eswct.com
Children ages: 2.8 to 5 years

East Campus
128 Avenue of IndustryWaterbury, CT 06705
Children ages: 12 months to 5 years

Meriden Campus
125 Broad StreetMeriden, CT 06450Contact: Glenda Duke, 203.686.1438, gduke@eswct.com
Children ages: 2.8 to 5 years
---
Click the link below to download an application.
2022 Children's Academy Application - Preschool
2022 Children's Academy Application - Toddler
Children's Academy Application (Spanish Version)
Email completed applications to: Cindy Pirro, Director of Children's Programs, cpirro@eswct.com
Income based for Waterbury/Meriden residents in the 3-5 year old School Readiness Program.
Register your child today! Openings are still available.