Employment & Community Services
Experience has taught us that meaningful employment is one of the best ways to boost an individual's self-esteem and confidence that they play a valuable role within their community. Easterseals strives to pace the road to independence through employment.
Employment and Community Services offers a CARF accredited employment program including pre-vocational evaluation, work adjustment training, employment planning, school-to-work transition, supported employment, and job placement services.
Our Community Experience Program is ideal for adults with intellectual disabilities who like variety and seek opportunities out in the community while building independent skills. The program provides opportunities for community integrated activities of choice, valued adult experiences, and participation in all activities the community has to offer.

Community Partners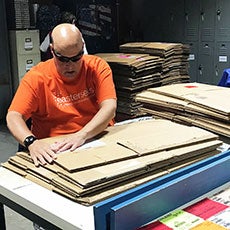 Companies like Curtis Packaging are providing a safe, welcoming and inclusive environment for the individuals we serve to do meaningful work. Curtis opened its warehouse in Sandy Hook, CT, for Easterseals individuals to participate in packaging work along-side of their long- time employees. Easterseals Community Inclusion Specialists work with the individuals teaching them the skills they need to eventually move into competitive employment. We are grateful to Darlene D'Amico, Traffic Manager at Curtis, who helped make this opportunity possible. At first it was challenging for Darlene to accommodate individuals with disabilities in the workplace, now she can't imagine the work environment without our program participants.