Making Life Accessible
Break down barriers and be sure we can include everyone.
Easterseals and Freddie Mac Offer Financial Guidance
Get smart about your credit and work towards your homeownership goal. Get financial advice here.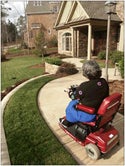 Easterseals Project ACTION
Find accessible public transportation.
National Center on Senior Transportation
Increasing transportation options for older adults and enhancing their ability to live more independently within their communities throughout the United States.
Accessibility of the Web and Web Tools
Easterseals leads efforts to put people with disabilities to work on the Web and to promote Web accessibility.
s.a.f.e.t.y. first
Be sure you and your colleages have an emergency evacuation plan.
Accessible Child Care
Make your child care center accessible for children of all abilities.
FRIENDS WHO CARE®
FRIENDS WHO CARE® is designed to help children better understand what it means and how it feels to be a young person with a disability.