Introduction
"Your life and mine shall be valued not by what we take... but by what we give." Those words, spoken by Easter Seals' founder Edgar Allen over 90 years ago, began a movement. Today, we're thankful to you for being a part of that movement. With over 50 million Americans living with disabilities, our work is far from complete. We encourage you to help us call attention to the experience of people with disabilities, and to raise awareness of and advocate for the services they need to live, learn, work and play in their communities.
We Want Your Talents!
Paint, crayons, pencil, textures....however you do it, we want it! The artwork of children and adults benefitting from Easterseals services is featured in our yearly calendar that goes out to 1.3 million households, and your art could be featured in the 2020 Easterseals calendar! Submissions are required by May 31, 2019 with a non-religious holiday or seasonal theme for each month. You can download the entry form here. Release for adults here, and children here.
Easterseals National Day of Giving
With your help, Easterseals has been a vital resource for people with disabilities and caregivers for 100 years! We're asking you to join us as we look to the future - a work where everyone is 100% empowered and 100% included. Your special gift will suport local community services that are crucial to the lives of thousands of children and adults with disabilities in Northern Ohio.
Ver-A-Fast By The Hand Foundation, is sponsoring our Week of Giving by donating an additional 25% for all gifts of $50, $100 or $250 made via their website. The deadline to have your gift matched is Monday, April 29 or until the goal has been met, whichever comes first.
Please support Easterseals Northern Ohio by clicking HERE.
In the spotlight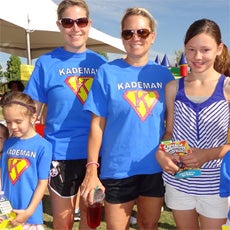 Easter Seals Walk With Me is an event to raise awareness and support for families living with disabilities! Join hundreds of passionate people in your community for a day full of entertainment, fun and, of course, our signature walk! Every walk event is different -- your walk could be at a local school or at the aquarium. But every walk is a lifeline of funds that enables your local Easter Seals to continue providing vital services and support to people with disabilities and their families.