Our mission
Easter Seals provides exceptional services, education, outreach, and advocacy so that people living with autism and other disabilities can live, learn, work and play in our communities. Easter Seals has been helping individuals with disabilities and special needs, and their families, live better lives for nearly 90 years. From child development centers to physical rehabilitation and job training for people with disabilities, Easter Seals offers a variety of services to help people with disabilities address life's challenges and achieve personal goals.
In the spotlight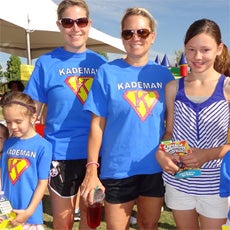 Easter Seals Walk With Me is an event to raise awareness and support for families living with disabilities! Join hundreds of passionate people in your community for a day full of entertainment, fun and, of course, our signature walk! Every walk event is different -- your walk could be at a local school or at the aquarium. But every walk is a lifeline of funds that enables your local Easter Seals to continue providing vital services and support to people with disabilities and their families.
Easter Seals New York: Mission & Services
Easter Seals New York provides programs and services to children and adults with disabilities and other special needs, and their families. Our goal is to help individuals with special needs gain dignity, equality and independence. We provide the highest quality services in the most caring and cost-effective manner. Our staff and volunteers have a long-standing commitment to serve those for whom no other resources exist.
About Easter Seals New York
Easter Seals New York was founded in 1922 as one of the first organizations to aid people with disabilities. For the last 80 years, we have been producing programs that enable those with special needs to achieve equality, dignity, and independence in their own communities. We are a non-profit community-based organization dedicated to improving the health and welfare of New York State children and adults with special needs. Statewide, our programs and services provide innovative solutions that enhance the lives of people with disabilities and other special needs, while heightening community awareness and acceptance.
Adult Services
Senior Services
Camping and Recreation
Medical Rehabilitation
Children's Services
Autism (ASD) Services
Military & Veteran Services
Employment & Training