Back to School Campaign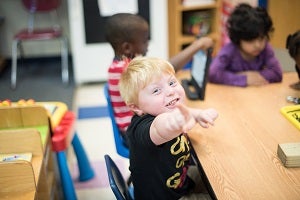 Joey's Gift Respite Care Campaign
When Bob and Wendy Minotti's beloved son Joey passed away, they committed themselves to a mission of love in Joey's name. They established Joey's Gift, an effort to ensure that families with disabled children have access to the respite services necessary to keep their children close and families intact. The Minottis, drawing from their own experience of being forced to place Joey outside the home, have created a pathway of hope for other families dealing with the stress of constant caregiving. Partnering with Easterseals in 2007, Bob and Wendy continue to realize their dream of helping others through Joey's Gift Respite Care program at Easterseals.
The greatest impact of the Joey's Gift program is the precious opportunity for families to feel comfortable and entitled to a short healthy break. Donate today!

Consider a Year-End Gift!
Proudly partnering with YOU, Easterseals goes the extra mile to ensure that children with special needs — and the families who love them — can lead full and meaningful lives
Make a year-end gift to support the children of Easterseals. Through early intervention and inclusive early childhood education to autism services and specialized therapies, young children with special needs CAN have a clear path to success from the start -YOU can make that happen with your gift!
For more information, please contact:
Susan Moor, Vice President of Gift Planning
Easterseals Northeast Central Florida
(386) 944-7820 or smoor@enecfl.org
A COPY OF THE OFFICIAL REGISTRATION AND FINANCIAL INFORMATION MAY BE OBTAINED FROM THE DIVISION OF CONSUMER SERVICES BY CALLING TOLL-FREE 1-800-435-7352 (800-HELP-FLA) WITHIN THE STATE.  REGISTRATION DOES NOT IMPLY ENDORSEMENT, APPROVAL, OR RECOMMENDATION BY THE STATE. FLORIDA REGISTRATION #CH1244.