Psychology Fellowship Program
Department of Psychology & Wellness
Postdoctoral Fellowship in Clinical & Developmental Psychology
Easterseals Rehabilitation Center
Evansville, Indiana
Training Program
Welcome to the Easterseals Rehabilitation Center Postdoctoral Fellowship in Clinical & Developmental Psychology, which is located in the Department of Psychology & Wellness in Evansville, Indiana. We are excited to offer an excellent training opportunity, with an emphasis in child clinical and developmental psychology. The program is designed as a 12-month, full-time postdoctoral fellowship, which has a flexible start date between July 1 and September 15 and provides 2,000 hours of clinical training. The focus of the fellowship is threefold. One, it is to provide the highest level of education and training utilizing the scientist-practitioner model, where fellows will engage in evaluation, therapy, assessment, consultation, supervising, and research services utilizing empirically-supported means across a variety of experiences and modalities. Two, the fellowship is designed as a preparatory year for independent clinical practice by further refining and advancing administrative, programmatic, and organizational skills need to develop and sustain a vibrant practice. Three, significant emphasis is placed on promoting flourishing, innovation, collegiality, and personal/professional balance, as it recognized that this is key to long-term stability for professionals, especially in preventing burnout and maximizing career satisfaction.

Accreditation
The Easterseals Postdoctoral Fellowship in Clinical & Developmental Psychology is not currently accredited with the American Psychological Association (APA) or a member of the Association of the Psychology Postdoctoral Internship Centers (APPIC). Questions about the program's accreditation status should be taken to the Commission on Accreditation:

Office of Program Consultation and Accreditation
American Psychological Association
750 1st Street, NE, Washington, DC 2002
Phone: 202-336-5979
Email: apaaccred@apa.org

Fellowship Structure and Experiences
The Easterseals Rehabilitation Center is a longstanding nonprofit agency in Evansville, Indiana, with an excellent reputation in the community for service and expertise. The Easterseals Rehabilitation Center has changed lives for people with disabilities in this community since 1946. Our mission is to make profound, positive differences in the lives of local people every day, and to change the way our community defines and views disability. Our services enable individuals of all ages, backgrounds and abilities to pursue their goals and dreams. Physical, occupational, and speech/language therapies, audiology testing and services, and psychological services are provided regardless of ability to pay. The entire community is impacted by life-changing programs that range from these therapy services to inclusive early care and education to custom seating and mobility, adaptive equipment, aquatic therapy, augmentative and alternative communication, residential supports and employment services.

The Easterseals Rehabilitation Center is part of a larger, vibrant medical community in the heart of Evansville, Indiana, which is the third largest city in the state. Evansville is centrally located between Nashville, Louisville, and St. Louis, and serves as the epicenter for health care delivery in the Tri-State area of Southwestern Indiana, Southern Illinois, and Western Kentucky. With six major hospitals carrying a capacity of more than 2,000 beds, individuals and families travel from all over the region to receive care. The community of Evansville, Indiana, has consistently been ranked as one of the top cities in the United States to relocate families. It is the home of two universities, the University of Southern Indiana and University of Evansville. It became the most recent site of expansion for the Indiana University Medical School, which now has a full-time campus located in downtown, and which started an internal medicine and psychiatry residency in the summer of 2019. Evansville serves as an active cultural and arts center, and a few years ago became the smallest community in the world to establish a Ronald McDonald House on the campus of St. Vincent Medical Center (there are now two houses in town). With low cost of living and many diverse opportunities for entertainment and everyday life, Evansville offers a unique, comfortable place to reside and call home. To learn more about the Evansville area - including culture, entertainment, events, and places to eat, shop, and explore - check out Explore Evansville, Evansville Living Magazine, the E-REP (Evansville Regional Economic Partnership) web site, and the E-REP Newcomer's Guide. To find out more about our local Easterseals, visit the Easterseals Rehabilitation Center web site.

The psychology department has been an integral part of the Easterseals Rehabilitation Center for nearly six decades. In addition to offering comprehensive, multi-disciplinary assessments for youth and adult counseling services, the department provides a wide-range of intervention services, including individual, family, and group therapy. Services are provided to clients from a wide range of ages, ethnicities, socioeconomic status, family situations, and presenting concerns. The department is founded on three pillars: high-quality clinical services, a full educational model based on the scientist-practitioner paradigm, and innovative community outreach services, such as our interactive empathy series for parents. In addition to a fellowship program, the Department of Psychology & Wellness at the Easterseals Rehabilitation Center serves as a training site for students at the undergraduate, master's level, pre-doctoral intern, and psychiatric resident level. Fellows will actively work with trainees at each of these levels throughout their appointment. The department serves approximately 30 counties in the Tri-State area, which includes Southwestern Indiana, Southern Illinois, and Western Kentucky.

The primary goal of the fellowship program is provide a comprehensive, tailored, research-supported experience that supports the holistic development of the fellow. More specifically, the program is geared to train psychologists dually, who make use of available research and scientifically-sound treatments while also providing the most compassionate, empathetic care. During the fellowship year, trainees will be provided with numerous experiences designed to enhance their knowledge and empathy for those that they will serve both as trainees and in their career as psychologists. Click here to see the complete Easterseals Postdoctoral Fellowship in Clinical & Developmental Psychology Policies and Procedures Manual. As part of the many varied experiences, the training program works with a partner school, Sharon Elementary, to provide for didactic and consultative opportunities. Sharon Elementary services over 650 students kindergarten through 5th grade, 52% of whom receive free and/or reduced lunch. Known across the region for its innovative, cutting edge teaching techniques and school environment, Sharon Elementary has been a Four Star School three times and has a state and federal "A" letter grade rating. The principal of Sharon Elementary is Ashlee Bruggenschmidt, the 2019 IASP Elementary School Principal of the Year.

As a means of creating an environment rich in knowledge, compassion, and empathy, the fellowship program actively seeks to recruit trainees from diverse backgrounds in addition to recruiting and retaining diverse faculty members over the long term. The Easterseals Psychology Fellowship Program maintains the non-discrimination policies of the Easterseals Rehabilitation Center. The fellowship program does not engage in discrimination based on attributes of race, color, religion, national origin, sex, age, sexual orientation, gender identity and expression, or physical or mental disability. The Psychology Fellowship Training program adheres to the Americans with Disabilities Act of 1990 and will provide adaptations to fellows consistent with the Easterseals Rehabilitation Center's policies so that they can perform the essential functions of their job. It is the Easterseals Rehabilitation Center's policy not to discriminate against qualified individuals with disabilities in regard to application procedures, hiring, advancement, discharge, compensation, training, or other terms, conditions, and privileges of employment. Additionally, the Americans with Disabilities Act (ADA) requires employers to reasonably accommodate qualified individuals with disabilities. It is the policy of the ESRC to comply with all federal, state, and local laws concerning the employment of persons with disabilities.

Learning opportunities will be offered, which will ultimately be designed to provide a rich, integrated experience with the primary training objectives in mind. These include to a) develop competencies with a diverse range of clients and systems; b) embrace a commitment to diversity and uniqueness of each individual; c) further an understanding of research-based practice and community activities; d) develop an ability to provide psychological services across a broad range of modalities and mechanisms; e) utilize an ethical framework for clinical decision-making based on the highest ideals; f) facilitate work with other professionals as part of a collaborative team; e) further develop advanced skills in administrative, supervisory, programmatic, and organizational areas, and ultimately, e) embrace a model of practice that embodies high quality care that is both empathetic and sustainable in the long-term.

Learning opportunities will occur through direct clinical experiences, supervision, and didactics. To learn more about specific didactic hours and the current schedule and curriculum, please visit the Fellowship Didactics web page.

Major rotations are offered in the following areas: consultation/diagnostic evaluations, child/adolescent assessment & therapy, interdisciplinary team evaluations, assessment of youth residential patients, group therapy for children/adolescents, and adult therapeutic services. In addition to working with psychologists and other trainees, fellows will actively work with other professionals, including speech/language, occupational, and physical therapists, audiologists, residential professionals, and those with skills in assistive technology. Although some individuals that present to the psychology department have comorbid physical/developmental challenges, many referred individuals present with typical psychological concerns such as attention-deficit, learning, behavioral, mood/emotional, and familial issues. Further, more detailed information regarding each rotation can be found on our Fellowship Rotations web page.

Eligibility
Applicants from APA- or CPA-accredited doctoral and internship programs from clinical, counseling, or school psychology are preferred, but not required. It is highly recommended that applicants have strong backgrounds in child clinical, school, or pediatric psychology, especially with assessment skills; however, students with generalist graduate training will be considered for admission. The dissertation must have been defended and the doctoral degree conferred prior to the start of fellowship. Before beginning the fellowship year, trainees must pass a background check and pre-hire screening. The background check is designed to protect Easterseals clients and excludes individuals from employment who are convicted of crimes which might endanger others (additional information can be obtained from Fellowship Training Director Dr. James Schroeder). A member of the Human Resources team will work with the fellow candidate to schedule an appointment time for all pre-hire screenings, which will include a TB test, drug screen (including for marijuana/cannabis products), nursing assessment, and pre-work screen. In most cases, screenings are completed at Easterseals Rehabilitation Center facilities. In the event the onsite drug screen is inconclusive, fellows will be sent to an offsite facility for further testing. Completion of all pre-screenings with a passed result is a prerequisite for continuation in the hiring process.

Salary and Benefits
The Postdoctoral Fellowship in Clinical & Developmental Psychology offers a competitive salary of $40,000 plus a number of additional benefits. Benefits include medical, dental, and vision insurance, in addition to life insurance and short-term disability coverage, among other provisions. Fellows will receive a $1,000 professional fund to use during the year. Paid time off provisions will be provided that are largely consistent with the Easterseals Rehabilitation Center policy. Fellows are encouraged to utilize all time available to maximize their physical and psychological health, and to minimize the likelihood of "burnout." Through use of generous paid time off provisions, the Easterseals Rehabilitation Center strives to maintain a healthy workplace, where all employees can maximize performance and well-being at work, at home, and in other endeavors. Fellows are eligible for full pay on the following holidays:

• Good Friday
• Memorial Day
• Independence Day
• Labor Day
• Thanksgiving Day
• Thanksgiving Friday
• Christmas Day through New Year's Day is also an observed holiday.

Fellows will be provided with 80 (eighty) vacation hours (in addition to time off for holidays) after starting their term. Vacation can be used for any personal use and any other activities that are not specifically approved as professional time or educational activity within the fellowship program. Fellows will also be provided with four (4) professional days as part of their training, to be used for activities such as job interviews, licensure-related activities, and/or attendance at approved conferences (not part of the training program). Fellows are given five (5) paid sick days per year. If all available sick leave is exhausted, fellows may use vacation time to provide for paid sick leave. If available sick and vacation time has been exhausted, fellows may take unpaid leave if approved by the training director and the Vice President of Human Resources. In addition, fellows will have access to free parking and all other benefits and activities afforded to Easterseals Rehabilitation Center providers. These benefits include full administrative, billing, and IT support. Fellows will have their own offices with generous size provisions fully equipped with an updated desktop computer, individual printer, personal phone, and other resources.
Requirements for Application
Applicants interested in the Fellowship must send a cover letter, curriculum vitae, three letters of reference, and two samples of clinical reports to Dr. Jim Schroeder at jschroeder@evansvillerehab.com. There is a preferred deadline of January 1st, but applications will be accepted after that day on a rolling admissions process if the position is not filled. The fellowship is participating in the APPIC Postdoctoral Selections Standards and Common Hold Date procedure. Once applications are received, they will be reviewed by the Postdoctoral Fellowship Executive Committee (PFEC) to determine if an interview will be offered. Candidates will be contacted on a rolling basis regarding interviews and application status. Interviewees will meet with all faculty members, the Easterseals Rehabilitation Center CEO, and current fellow(s)/interns, and will be provided with a virtual tour of the facility in addition to information about the Evansville area. All interviews will be done virtually. Further questions can be directed to Dr. Schroeder at jschroeder@evansvillerehab.com or 812-479-1411.
Psychology & Wellness Faculty


Jim Schroeder, Ph.D, HSPP
Dr. Schroeder is the Vice President of the Department of Psychology & Wellness and the psychology internship training director at the Easterseals Rehabilitation Center in Evansville, Indiana. He is a Volunteer Clinical Assistant Professor of Clinical Psychology for Indiana University, School of Medicine. He received a BS from Ball State University with a major in psychology and minors in social work and counseling psychology. He graduated with a PhD in clinical psychology from Saint Louis University in 2005. As part of this training, he completed an internship in clinical child and pediatric psychology through the University of Louisville School of Medicine, where he worked at Kosair Children's Hospital and Bingham Child Guidance Center. After graduation, he completed a postdoctoral fellowship at St. Louis Children's Hospital through the Washington University School of Medicine. Prior to joining the staff at Easterseals, he was employed as a pediatric psychologist at Cardinal Glennon Children's Hospital in St. Louis, and St. Vincent Center for Children in Evansville. During his time at St. Vincent, he co-created the Pediatric Postdoctoral Fellowship Program, and was training director of that program for 8 years. He is a member of the American Psychological Association and Division 53. He currently resides in Evansville, Indiana, with his wife, Amy, and their eight children. In addition to seeing youth with a wide range of backgrounds and psychological issues, he specializes in evaluating and working with children (and their families) diagnosed with autism spectrum, learning, sleep, attention-deficit, and other developmental issues. He speaks widely on many topics and has published numerous articles related to parenting and the psychological health of youth today, including issues related to technology and media.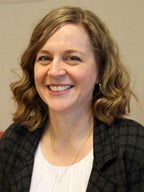 Emma D. Nicholls, Ph.D., HSPP
Dr. Nicholls provides psychological services primarily to children and their families. She has extensive experience in psychological testing and evaluation to assess for problems such as ADHD, learning disabilities, anxiety, depression, and autism spectrum disorders. She also provides psychological treatment/counseling services to school-age children and adults who may be struggling with anxiety, depression, and related disorders. She has a special interest in treating Body Focused Repetitive Behaviors, such as trichotillomania and skin-picking disorders. Dr. Nicholls earned her Ph.D. in clinical psychology from Northern Illinois University. She completed her internship at the Evansville Psychology Internship Consortium. Dr. Nicholls received her master's degree in clinical psychology from Northern Illinois University and her bachelor's degree in psychology from the University of Texas at Austin. Dr. Nicholls is a licensed psychologist in the state of Indiana and is endorsed as a Health Service Provider in Psychology. She is a member of the American Psychological Association and the Trichotillomania Learning Center.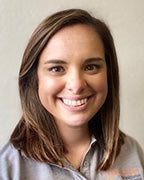 Brooke Frazer, Ph.D.
Dr. Brooke Frazer accepted a faculty position in the Department of Psychology & Wellness in October 2021. She received a BS from University of Southern Indiana with a major in psychology. She graduated with a MS in clinical psychology from Murray State University, and a PhD in school psychology from Indiana University in 2020. As part of her PhD training, Brooke completed an American Psychological Association (APA) accredited internship in clinical and school pediatric psychology through the Illinois School Psychology Internship Consortium (ISPIC), where she worked at the Stress & Trauma Treatment Center. Dr. Frazer received formal training, and specializes in the delivery of Trauma Focused- Cognitive Behavioral Therapy (TF-CBT) and Parent-Child Interaction Therapy (PCIT). She also delivers Cognitive Behavioral Therapy and Dialectical Behavior Therapy for adolescents. Other psychological services Dr. Frazer provides include the following: evaluation and treatment of children and adolescents with clinical concerns of autism spectrum, anxiety, depression, posttraumatic stress disorder, attention-deficit, and suicidal ideation and nonsuicidal self-injury (NSSI), in addition to a wide range of backgrounds and psychological issues. Brooke was raised in Poseyville, Indiana and currently resides in Evansville, with her husband, Logan, and their daughter.

Roselia Juan, Ph.D.
Dr. Roselia Juan (Rose) joined the Easterseals Rehabilitation Center as a faculty member in July 2023. She completed her doctoral internship with Easterseals (2019-2020) and post-doc with Deaconess Clinic (2020-2021). She received her PhD in school psychology from Stephen F. Austin State University in Nacogdoches, Texas, in 2020. Dr. Juan is passionate about working with children/teens and parents who are experiencing stress and uncertainty. She specializes in Dialectical Behavioral Therapy and Cognitive Behavioral Therapy for children and adolescents. She uses a variety of activities including games, drawings, and worksheets. With teens and young adults, mindfulness and acceptance are a big focus in her treatment. She also evaluates and treats Autism Spectrum Disorders, Anxiety/OCD, trauma, behavior disorders, and other mood/developmental disorders. She is bilingual in Spanish and English. Dr. Juan currently resides in Evansville and enjoys going to local coffee shops, running outdoors, and spending time with family and friends.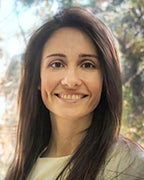 Rana Zayek, Ph.D.
Dr. Rana Zayek joined Easterseals Rehabilitation Center as a faculty member in November 2021. She is a mental health provider currently working on Indiana licensure, with extensive experience in the treatment of anxiety disorders, mood disorders, somatoform disorders, and relational issues. She has worked with children and adults, and couples and families, with different cultural backgrounds and from around the world. Dr. Zayek received her BA and MS in Clinical Psychology from San Jose State University, California. She graduated with a Ph.D. in Clinical Psychology from the University of Atlanta. Dr. Zayek has practiced in a variety of settings across the globe, in foster family agencies (USA), psychiatric clinics (Lebanon), and as a telehealth provider (United Arab Emirates), and in private practice (internationally). Dr. Zayek previously practiced for 10 years as a psychologist in Beirut, Lebanon from 2010-2020. She also was a psychology professor, and thesis and practicum advisor at Notre Dame University, Haigazian University, and the Lebanese University in Lebanon. She is trilingual, speaking English, Arabic, and French. Dr. Zayek identifies as a cognitive behavioral therapist who also loves to incorporate humor, role-play, drama, dance, and music therapy as part of her eclectic treatment approach.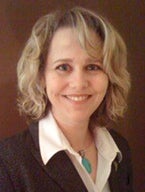 Shannon Jones, M.D.
Dr. Jones is Volunteer Clinical Assistant Professor of Psychiatry at Indiana University School of Medicine and serves as the Assistant Program Director for the Indiana University Psychiatric Residency at Samaritan Center. She's the Medical Director of Southwestern Behavioral Healthcare. She's an ABPN board certified Child and Adolescent Psychiatrist with particular expertise in the diagnosis and treatment of ADHD, ODD, anxiety disorders, ASD, and the various effects of early childhood trauma/deprivation. She's interested in "deprescribing" to children (e.g. Improved Metabolic and Psychiatric Outcomes with Discontinuation of Atypical Antipsychotics in Youth Hospitalized in a State Psychiatric Facility Journal of Child and Adolescent Psychopharmacology Dec 2017, 27(10): 897-907) and helping caregivers provide environments that promote healthy development. Dr. Jones completed Medical School training at Indiana University and Residency/Fellowship training at the Menninger Clinic.


Last updated: September 19, 2023