Therapeutic Pool
Individuals of all abilities benefit from our fully accessible, warm-water therapeutic pool.
Features of our therapeutic pool
The Easterseals Rehabilitation Center's full size, accessible, warm-water therapeutic pool is the only one of its kind in the community. Full accessibility is provided by a wheelchair ramp AND a motorized wheelchair-to-water lift funded by the Christopher and Dana Reeve Foundation. The pool features non-slippery deck flooring, therapeutic steps into the pool, grab bars, four water levels (1.5 to 4.5 feet deep), and adjustable parallel bars in the water at each level.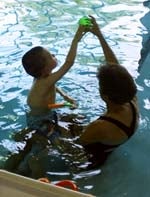 Three fully accessible locker rooms are available--men's, women's, and unisex (for a person with a disability assisted by a care-giver of the opposite sex).
Many children and adults with disabilities receive therapy in the pool. The buoyancy and warmth of the water limits stress on joints and reduces pain, muscle tightness and spasms. Mobility is greatly increased in the water. In addition, individuals whose disabilities prevent them from participating in aerobic exercise on land can often improve their cardiovascular health and overall fitness through aquatic exercise.
Classes and swim lessons benefit people of ALL abilities.
For details, fees, and a current class schedule, download our PDF information sheet, or call 812-474-2365. Programs are designed for all levels of fitness and ability, and include:
Small group swim lessons for children with and without disabilities - Swim lessons include no more than 3 students per instructor. Ages 3 and up are accepted for these lessons, which meet once a week for 6 weeks. Lessons cover water exploration to perfecting strokes. Call 812-474-2365 to pre-register for the next available session.

Individual swim lessons for children with and without disabilities - One-on-one instruction is offered for children ages 3 and up. Lessons include six 30-minute sessions (once per week for 6 weeks). Call 812-474-2365 to schedule individual lessons.

Follow this link to a printable PDF swim lesson health history form, which must be completed by a parent or guardian.