ReadAbility Family Resource Library
A place to connect with free information.
"When I found out Sage had cerebral palsy, I had no idea what it was. I was scared, confused, and didn't know where to turn."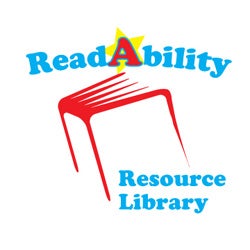 That was Sage's mom's reaction when her daughter was diagnosed with a disability. Now, local parents have a resource to help them understand their child's disability, to connect with the information and support systems they need, and to help their youngsters with disabilities learn to read.
The free ReadAbility Family Resource Library is located inside the Easterseals Rehabilitation Center, near the reception desk off the main lobby. The selection of books, tapes, videos, and online resources is an invaluable tool for parents of children with special needs, regardless of their financial situation.
This library is also a wonderful source of software, books, tapes and DVDs to help children with disabilities learn to read. A wide variety of early literacy resources includes materials designed especially for youngsters with autism, vision impairments, hearing disabilities, and other conditions.
The library also includes resources for children and youth with disabilities, as well as their siblings. Books featuring positive role models with disabilities are among the favorites that help kids experience enhanced self-esteem, learn new skills, and find support to help them achieve their greatest potential for independence.
Contact us for more information on the Family Resource Library and other services at the Easterseals Rehabilitation Center.