Meet Eric Birnie - 2016 Walk With Me Ambassador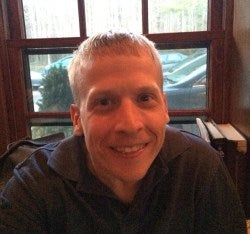 Known for: Inspiring others
Favorite things: Spending time with loved ones, being independent
Challenge: Delayed muscle development (since infancy)
How Easter Seals helped him: Physical therapy, speech therapy, occupational therapy, aqua therapy
The first year of Eric's life was an emotional roller coaster for his entire family, filled with medical tests and lab work. By 9 months of age, Eric had been diagnosed with delayed muscle development. Within a month of his diagnosis, Eric was tested at Easter Seals and began therapy. Soon thereafter, he began pre-school at the Easter Seals' DeLand campus, and responded so well to therapy he enrolled in public school by age 3.
Eric continued physical therapy through middle school, and speech therapy through high school. In high school, he was active in his church youth group and enjoyed skiing through the help of adaptive ski equipment.
Today, he's a graduate of Johnson & Wales University, and works in an administrative role that includes varied computer projects, which he greatly enjoys.
Says Eric, "I have always just tried to live life to the best of my abilities, and have always viewed my therapies as ways to improve my everyday life and gain independence. I am very blessed to have a wonderful family and friends that love me and do their best to include me in everyday life as much as possible."
Enjoy this news video, "Using Muscle to Beat Up Cerebral Palsy" to learn more about this amazing young man!