Milestones - Inclusive Early Child Care & Education
LIMITED OPENINGS NOW FOR 2-YEAR-OLDS & EARLY 3-YEAR-OLDS! Call 812-474-2244!
A limited number of full-time, full-year openings are available NOW for 2-year-olds and early 3-year-olds! Children must be at least 30 months of age for these spots. Please contact Milestones Director Laura Lukens at 812-474-2244 or llukens@evansvillerehab.com for details and to schedule a tour!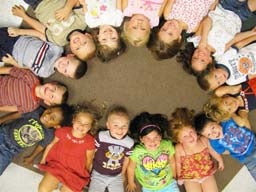 Equal opportunities to learn and play!
Milestones, the Easterseals Child Development Center, is "a fun place to learn and grow" offering inclusive early care and education for children of all abilities. Parents can find it challenging to obtain high quality, professional child care for their children. This challenge is even greater for parents of children with disabilities or severe medical conditions. Few facilities are equipped to meet the special needs of these youngsters. In the Evansville area, parents find the best in inclusive child care - for children of ALL abilities - at Milestones, the Easterseals Child Development Center.
Located at 621 S. Cullen Ave. in Evansville, IN, Milestones provides education-based child care in a nurturing, inclusive environment. Teachers, early intervention specialists, and therapists work as a team with parents. Together, this team helps children work toward developmental goals at the time in their lives when they are most ready to learn.
As part of their Milestones experience, infants and children with special needs may receive early intervention services and medical rehabilitation therapies from professionals from the Easterseals Rehabilitation Center. Milestones' convenient hours, 6:30 a.m.-5:30 p.m. Monday-Friday, enable parents to work, attend school, and carry out other daily responsibilities, confident that their children are receiving the best of care.
"Circle of Friends" at Milestones
Circle of Friends is a "parents' day out" program at Milestones. Circle of Friends welcomes children of all abilities between 18 and 36 months of age. This part-time program operates Monday-Friday, 8:30-11:30 a.m. Families may choose single or multiple days of attendance. For more information, contact Kathy Holsapple at 812-474-2244.
More about Milestones
Milestones is licensed by the State of Indiana and participates in Paths to Quality, Indiana's voluntary child care quality standards program. For more information, use our online contact page or call Milestones at 812-474-2244.