Altrusa House
Altrusa House is a place where people who are isolated because of health problems can come to make new friends and remain active. It is a place where people who are at risk have a safe place to stay while their caregivers are working or attending to their own needs. It is a place where people who need therapy can come to regain their independence.
It is an alternative to nursing home placement when the family is committed to keeping their loved ones at home. It is a place where health conditions can be monitored and cared for. It is a place that promotes an active lifestyle despite limitations. It is a support system for those providing care. It is a family.
Altrusa House is an Adult Day Health Care Facility that provides for the socialization and safety of frail, elderly and disabled adults. The program is designed to meet social, medical, and rehabilitative needs. Attendance can be flexible and is scheduled to meet the individual needs of the client and caregiver. We also assist caregivers with their insurance needs and stay in communication with the client's personal care managers.
Services provided include personal care, skilled nursing, supervision, therapeutic recreation, social services, nutritious meals, caregiver support, restorative exercise, and respite care.
Supported in part by the Alachua County Community Agency Partnership Program.
Supported by the Alachua County Board of County Commission's Commnity Agency Partership Program.
Supported by the Altrusa House of Gainesville, Inc. Board of Trustees.
Supported by Altrusa International of Gainesville, Florida.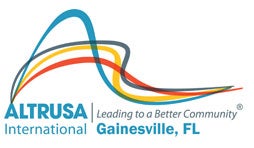 Altrusa House of Gainesville
2002 NW 36th Avenue
Gainesville, FL 32605
352-377-7708 (phone)
352-337-9622 (fax)