Introduction
Your generosity helps Easterseals provide help, hope and answers to people living with autism and other disabilities and the families who love them. Easterseals exceeds all of the Standards for Charity Accountability set by the BBB Wise Giving Alliance.
In the spotlight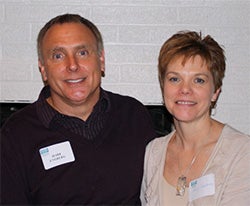 Giving back to an organization that has touched your family personally is a wonderful way to keep a legacy alive. Mark Engberg's sister, Mary Beth, who lived with cerebral palsy, enjoyed many summers at Easter Seals camp. Mark realized then the impact that services provided by Easter Seals could have on people with disabilities and their families.
Donate Online
Your contribution makes it possible for Easterseals Florida to offer services that help children and adults with disabilities achieve their goals and live more independent, satisfying lives.
Donate Online - Easterseals Florida is proud that more than $0.91 of every dollar of revenue is spent on direct services for children and adults with disabilities and special needs in our local communities.
Easterseals Florida is a sound investment. Learn more about how your dollars are spent, and about the National Health Council's report which rated Easterseals first for allocation of program dollars.