Camp Challenge

Enjoy the experience of a lifetime!
Peace of mind for you, and the summer adventure of a lifetime for your loved one! A week long fully accessible overnight or day camp for children and adults with disabilities or special needs, ages 6-106! Exciting activities include zip lining, swimming, archery, dancing, sports, music & drama, and more! Easter Seals Florida… providing summer memories for individuals with special needs for over 50 years.
2016-2017 Calendar
Weekend Respite Camp Dates
Weekend long camp program for adults and children
age 6 and up with special needs and disabilities.
October 7-9, 2016
December 9-11, 2016
February 10-12, 2017
April 21-23, 2017


Summer 2017 Camp Dates
Easter Seals Camp Challenge provides two summer camp programs – Overnight Camp for children over 6 years of age and adults of any age, with disabilities or special needs, and Day Camp for school age children, typically developing or those with mild to moderate special needs. Exciting activities include – swimming, zip lining, archery, sports, drama, arts and crafts and special events!
Session 1: Adults 18 & Up - June 11-17
Session 2: Adults 18 & Up - June 18-24
Session 3: Adults 18 & Up - June 25-July 1
Session 4: Young Adults 14 to 26 - July 2-8
Session 5: Children 6 to 18 - July 9-15
Session 6: Siblings - July 16-22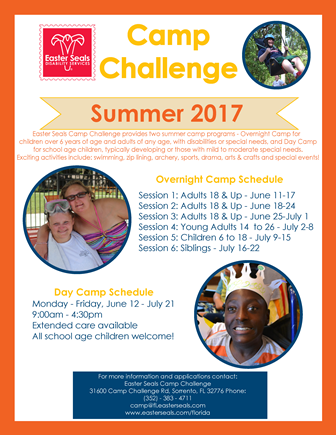 Family Fun Days
Discover Camp Easter Seals Camp Challenge
Free Event
11am - 2pm
November 5, 2016
January 7, 2017
March 11, 2017

May 6, 2017
For more information call Maggie Denk at 352.383.4711 ext. 201 or email camp@fl.easterseals.com


31600 Camp Challenge Road

▪

Sorrento, FL 32776
(352) 383-4711

▪

camp@fl.easterseals.com