Partners
Commitments to Easter Seals
Look closely at what makes Easter Seals unique from other health and human services providers, and it becomes clear: Easter Seals' greatest strength comes from corporate sponsors, foundations, and individuals, as well as, community volunteers who make a difference as Easter Seals creates solutions that improve the lives of people with disabilities.
Century Legacy 21

Century 21 Legacy is a prominent real estate company that assists individuals and businesses in buying and selling in East Tennessee. As leaders in the realty industry, Century 21 Legacy also understands the value in giving back by being active volunteers and philanthropists in their communities. For years, their agents and staff have supported and positively impacted the Easterseals Tennessee programs and services. Their efforts and philanthropy have enabled us to empower and enrich the lives of children and adults throughout Tennesee of all abilities.
Enterprise Solutions

Enterprise Solutions has bee the Platinum Elite Title Sponsor of the annual Easterseals Youth Fishing Tournament for over a dceade. Through their support and leadership many youth campers have enjoyed the recreation and camaderie of Easterseal Tennessee summer camps. We appreciate the commitment and generosity of Enterprise Solutions which has offered so many individuals in our community the power to explore their abilites and better their lives.

Nashville Predators Foundation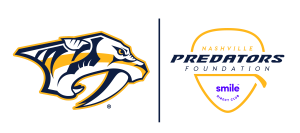 The Nashville Predators Foundation partners with and supports non-profits in Middle Tennessee through community outreach efforts. During the unprecedented spring of 2020, the Predators Foundation offered charities affected by COVID-19, the opportunity to reallocate their grant funds, if needed. Since Easterseals TN is an essential business and has been frontline support to members during the pandemic, we responded by reallocating 2020 grant funding from the Nashville Predators Foundation. Funds are being used for Personal Protective Equipment (PPE) to support members and staff so that all stay safe and stay positive. Easterseals TN is grateful for this year's unique funding from the Nashville Predators Foundation which will enable us to continue to slow the spread while positively impacting the lives of all abilities served.
HCA/Tri-Star Community Cares Day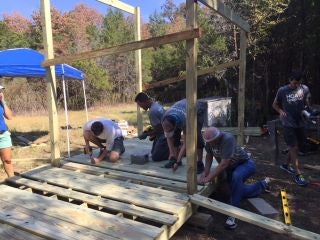 Easterseals Tennessee is thrilled with the new archery deck at the Day Camp archery range that the HCA volunteers constructed making the area accessible to all. These HCA volunteers, led by Joshua Surre, were smart, ingenious,and hard working!
For the past several years, HCA volunteers have helped us improve several activities at camp, and what a difference it has made in the lives and the fun of our children and adults as they explore the outdoors, recreate and socialize.
Thank you HCA for all you have done to make so much possible for those living with disabilites in our community! http://www.hcacaring.org/
Alphagraphics Music City
Learn more about Alphagraphics Music City, an Easterseals Tennessee printing partner. Whether we need business cards, envelopes, invitations, or signage, Alphagraphics is our "go to" for all our printing needs. We commen them for theirexceptional finished product and their timely service.
Middle Tennessee Electric Membership Corporation
The Middle Tennessee Electric Membership Corporation Foundation partners with Easterseals TN to send youth and adults to Easterseals TN Camps. Their support has enabled us to offer more individuals the opportunity to enjoy the fun, fitness and friendship of Easterseals TN camp programs and activities.
MTEMC's Foundation, whose sole purpose is to give back to the communities they serve, utilizes SharingChange.org to support non-profits in our community. Customers of MTEMC round up their monthly electric bill and non-profits benefit. Easterseals TN is privileged to be a recipient of the MTEMC/SharingChange Board support and funding.
The Memorial Foundation

The Memorial Foundation was established with an endowment fund generated from the assets of the Nashville Memorial Hospital in Madison, TN. Since its inception, as their mission states, they have improved the qualiity of life of many people through support to non-profit organizations.
Through their funding, the Memorial Foundation has enabled children and adults living with disabilities and special needs the opportunity to attend Easterseals Tennessee Camps year round. Our campers experience fun, fitness and friendships that many might never have thought possible.
We applaud the Memorial Foundation for helping change the lives of our special population.
.