Giovanni Garcia- 2020 Ambassador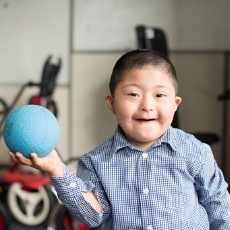 Giovanni Garcia, 5, has been named as an Easterseals Northeast Central Florida 2020 Ambassador.
Giovanni is an outgoing, and contagiously happy little boy who enjoys dancing and music. The only child of Susana and Carmelo Garcia, Giovanni is a student at Easterseals Charter School and receives occupational and language therapy services from Easterseals as well. At Easterseals, Giovanni has flourished. When he arrived, he wasn't vocal and demonstrated little cognitive ability, according to Assistant Principal Christina Hopkins. He was timid and shy. Today, however, Giovanni is blossoming. Not only is he outgoing, he's often the life of the party. Whenever he talks with peers and adults, he even invites them to play! He has learned his colors, can count to five, can name familiar objects in the classroom, and can verbally express his wants and needs.Giovanni will be attending to Kindergarten next year, and with Easterseals' help, he's learning and growing while reaching significant and age-appropriate milestones.
Easterseals is proud to welcome Giovanni to the Easterseals Ambassador family. Mark your calendars to meet Giovanni and support Easterseals in its annual Walk With Me event in 2020.