Leadership
Susan Ventura, President & Chief Executive Officer
Susan Ventura, President and Chief Executive Officer has worked for more than 30 years at Easterseals Florida. As CEO, she ensures Easterseals is responsive to our communities and families we serve and donors who support our work. Upon graduating from college, Sue received her Certified Rehabilitation Counseling credential, as well as designation as a sign language interpreter. She has received some of the highest honors including being recognized in 2010 as one of the top Women-Led Businesses in Florida, was nominated as a Woman of Distinction in Central Florida, and in 2016 Easterseals Florida was honored as an outstanding nonprofit in Tampa Bay.
As an active member of Easter Seals Affiliate Leadership Network (ALN), Sue was peer-elected to serve her second two-year term as Chair of the ALN and an ex-offico member of the Easterseals International Board of Directors. She has also been appointed to Easterseals National workgroups such as Strategic Realignment, Brand Renaissance, Unified Fundraising Team and she assists with new CEO orientation. Sue earned her Master of Science Degree from Florida State University in Rehabilitation Counseling and is a graduate of the Florida International University's Leading Decisions leadership program. She enjoys traveling, mostly to Chicago to visit her daughter, Rachel and Son-in-Law, Ross and resides in Lake Nona with her husband Gary.
Gladys Epps, Chief Financial Officer
Chief Financial Officer, Gladys Epps is an Empire State College alumnus who customized both her undergraduate and graduate work to include an emphasis in nonprofit management. She has more than 30 years' experience working in leadership positions in nonprofit organizations, with expertise in accounting, human resources and information technology. Her experience includes transactional accounting, financial reporting, budgeting, audit preparations, tax reporting, financial analysis, funder/donor accountability, payroll, compensation and benefits administration, staff recruitment, employee motivation and discipline. She is a skilled project manager and has extensive experience in corporate compliance, working with fiduciary boards and committees and training of both staff and board members. She has served Easterseals Florida for the past 17 years. Gladys has a wonderful passion for the Easterseals mission, but also for baking and decorating amazing, professional grade cakes.
Rob Porcaro, Chief Operating Officer
Rob joined the Easterseals Florida team in April, 2005 as the Executive Director of Monroe County operations. Currently, as the Chief Operations Officer, Rob oversees a variety of functions including: Early Steps contract, Managed Care contracting, Risk Management, Strategic Planning, Facility Maintenance and Contract compliance.
After receiving his Bachelor's degree from the New York Institute of Technology, Rob pursued a career in healthcare. He worked with Blue Cross & Blue Shield, Cigna, and various hospital systems and multi-specialty physician groups. He applied his knowledge of the healthcare industry to the non-profit sector, in an effort to further the mission of Easterseals. Rob currently resides in Palm Beach County and is actively pursuing additional credentials in the field of training.
Jeff Lato, Chief Development Officer
Jeff brings a solid fundraising, business and leadership career to Easterseals from his work primarily with the Boy Scouts of America, and a short tenure with Special Olympics Florida. Jeff has experience in special events, individual and major gifts, grants and endowment. His breadth of experience includes having his CFRE and an MBA so he will continue our path of using data and analysis to guide our strategies and performance. He also attended the highly regarded Indiana University School of Philanthropy Principles and Techniques of Fundraising program.
Jeff lives in Apopka with his wife Jessica and their 2 dogs. He is a veteran of the Marine Corps, where he served our Country for 3 years. Jessica is a nurse at Winter Park Hospital. He is a Cub, Blackhawks and Bears fan, so we have to work on converting him to our Florida teams! He is originally from Michigan, working in Wisconsin and Atlanta, and has been in Central Florida for just over a year.
Jeff will be based in Winter Park, but making his way around the State on a regular basis.
Suzanne Caporina, Senior Vice President of Innovation and Impact

Suzanne Caporina, Senior Vice President of Innovation and Impact, has been advocating for children and adults with disabilities and their families for more than 18 years. Suzanne started her Easterseals career in Transportation Services in Brevard County. Her strong leadership and passion for our families led Suzanne on a career path to Adult Services. She has grown several programs to provide more care to more families. Through adult and senior services, employment programs, health and social services, as well as summer camp and recreational programs Suzanne has been a champion for individuals being the primary driver of their own care. Suzanne has been supporting the empowerment of independence by continuing educational services to adults with special needs. Suzanne was recognized as the 2016 winner of the Rhoda and Bert Ventura Leadership Award and is often caught providing her amazing mentorship to new staff and colleagues. Suzanne has a love for Florida's beautiful coastal area and spends lots of free time on one of its sandy beaches.
Marissa Barrera, Vice President of Early Intervention Services
Marissa Barrera, Vice President of Early Intervention Services, has more than 28 years of experience in early intervention services working with and advocating for young children with disabilities and their families. She is a subject matter expert on IDEA Part C regulations and funding opportunities related to a broad spectrum of programs at the federal, state, and local levels. Her leadership of this high quality state funded program has set examples for others across the state and nation. She has extensive program knowledge including that of Service Coordination Supervision, local quality assurance, procedural safeguards and staff training that ensure appropriate oversight and accountability for the implementation of the Early Steps Program. Marissa lives in Boca Raton with husband and 2 children. She is an avid reader and absolutely loves movies.
Stephanie Wallace, Vice President of Programs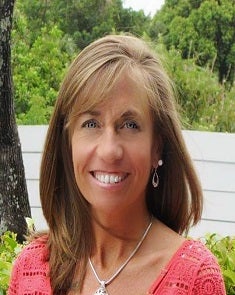 Stephanie Wallace is Vice President of Programs for Easterseals Florida. Stephanie has an extensive background in both program development and program management. Before coming to Easterseals she spent over 20 years furthering educational opportunities for individuals of all abilities at the K-12 and post-secondary levels. Stephanie has served as an advocate for both children and adults with disabilities, helping to create appropriate accommodation plans to further their ability to learn, gain valuable employment skills, and to increase their independence. She oversees programs throughout the Easterseals Florida region including child development centers, adult and senior services, employment programs, and respite programs. Stephanie earned her Bachelor of Arts degree in Biology from Wesleyan College and her Master of Science in Contracts and Acquisitions from Florida Institute of Technology.

EASTERSEALS FLORIDA, INC.
BOARD OF DIRECTORS

CHAIR
Cory L. Taylor, Esquire Law Office of Cory Taylor, P.A.

FIRST VICE CHAIR
Edward R. Hanna , Fiserv, Inc.

SECOND VICE CHAIR
Mary Beth Roberts
TREASURER
Andrew DeTurck SunTrust Bank

SECRETARY
Joseph P. Cairns, Esquire Cairns Law

Walter Brown, Nextera Energy – Florida Power & Light

Kaleb Harrell, Hawkers Asian Street Fare

Joseph Kern, Esquire
Vicki R. Kneen
Joy A. Murray
Shuly Oletzky
Bob Oxnard, Century 21 Sunbelt Realty

Joanne B. Sullivan, USF Health

HONORARY BOARD MEMBERS

Morris E. (Gene) Liddon
Dan T. Peacock, Independent Financial Partners

Bob Willmarth