Careers at Easterseals
Join our team!
HR Administrator
Easterseals Eastern PA is seeking an HR Administrator to support the human rEasterseals Eastern PA is seeking an HR Administrator to support the human resources functions for our thriving agency that delivers critical services for children and adults with disabilities. The HR Administrator is responsible for processing bi-weekly payroll, managing advertising for open positions, on-boarding new employees, facilitating background checks and clearances, tracking required training and performance evaluations, processing benefits enrollment and related tasks, processing unemployment requests, and performing other administrative duties that support human resources functions.
Associate's degree or higher in a related field with a minimum of 2 years payroll/HR administration experience required. Advanced proficiency with computers, software programs including Microsoft Excel and Office, and keyboarding. Effective communication skills, both verbal and written. Positive professional attitude with peers and staff, ability to keep information confidential, flexibility in the work setting, and ability to manage multiple priorities concurrently are required. This is a full-time, nonexempt position. EOE.
You can view the full job description here.
To apply, submit a letter of interest and a resume to Mindy McCormick, President and CEO, at mmccormick@esep.org or mail to her attention at Easterseals Eastern PA, 1501 Lehigh Street, Suite 201, Allentown, PA 18103.
Community Based Direct Support Professional
Do you enjoy helping others reach their full potential? Join us as a Community Based DSP and make a lasting impact in the lives of our consumers in the Lehigh Valley or Berks County.
Easterseals Community Based DSPs play an integral role by supporting people with disabilities in a variety of community activities. This interaction assists in the development of meaningful social and job connections in the lives of individuals with disabilities. You will work one-on-one with individuals with special needs to achieve success in volunteer activities (food bank, animal shelters, libraries, etc.), recreational opportunities (art classes, cooking lessons, etc.) and career exploration (resume preparation, etc.). A High School Diploma and prior experience supporting people with disabilities along with the ability to work in various community settings is required. You must be able to work a flexible schedule, have a valid driver's license and have the use of a personal vehicle to transport consumers (mileage is reimbursed). Starting wage is $14 per hour. An additional $250 bonus is available at one-year of employment. For more information about this position, contact Cynthia Phillips by email or phone at 610-289-0114 x229.
Early Intervention Therapists

We have a robust Early Intervention program serving families across seven counties. Our independent contractors enjoy competitive rates, flexible scheduling, weekly reimbursement, superior administrative support and more. We are seeking contractors in the areas shown below. For information or to apply, contact Jill Glose, Vice President Clinical Services, by email or phone 610-289-0114 x201.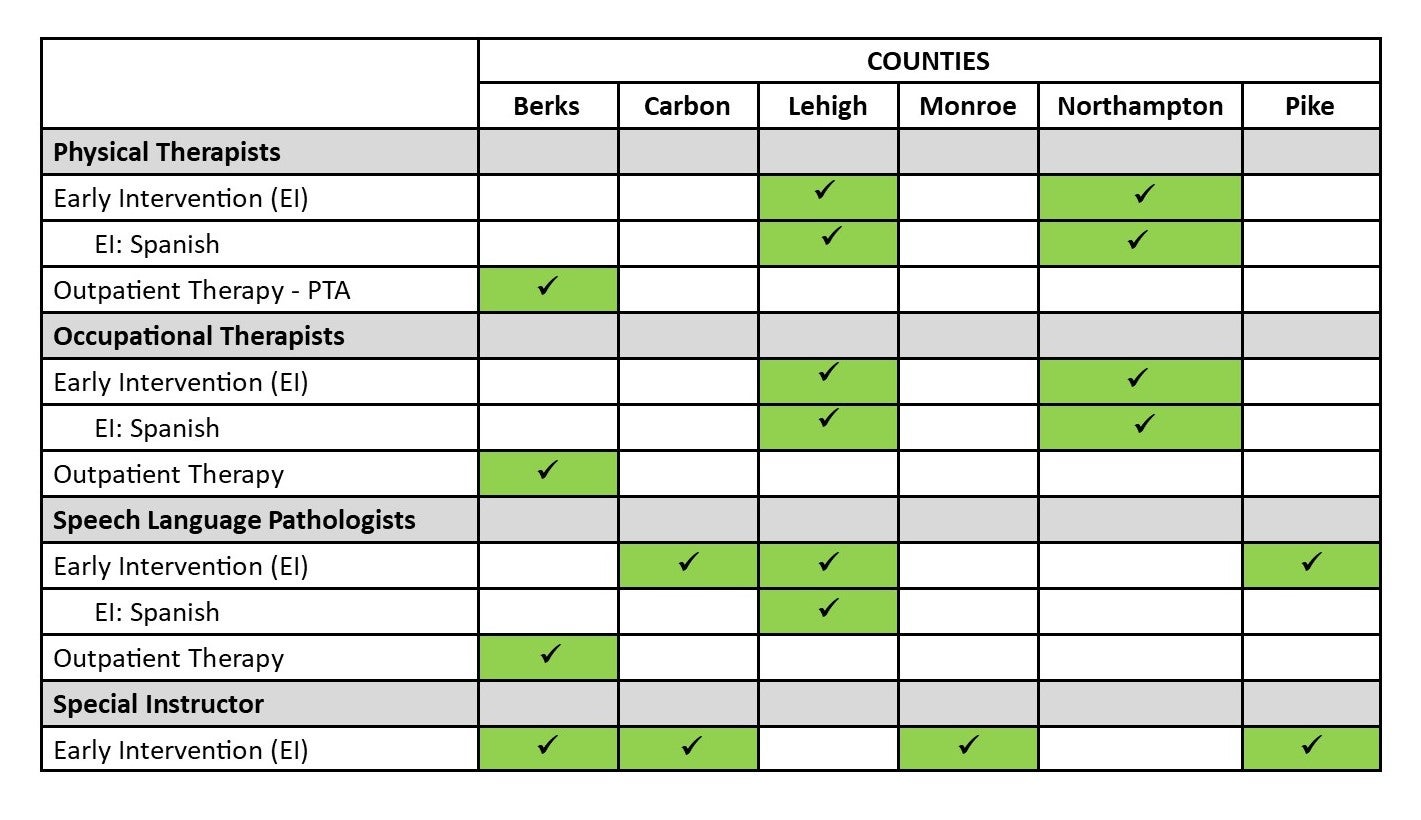 For other employment or contracting opportunities
Contact Elena Danielson by email or phone at 610-289-0114 x207.