Careers at Easterseals
Join our team!

President and Chief Executive Officer
Easterseals is seeking a new President and CEO prepared to lead an organization that has a solid foundation, effective culture, excellent growth and operational track record, and a strong executive team. The right leader for this role will be the face of Easterseals and aspire to leave a legacy that will resonate with the people of the region for years to come. This is an excellent opportunity to lead and serve a mission that impacts the lives of thousands of people who count on Easterseals for essential services and support, here in our community. View the full Position Profile.
Interested individuals should email a resume and cover letter that conveys why they are well suited for the position along with salary information to the attention of Ron Bolam.
Community Supports Specialist
Do you enjoy helping others reach their full potential? Join us as a Community Support Specialist and make a lasting impact in the lives of our consumers in the Lehigh Valley or Berks County.
Easterseals Community Support Specialists play an integral role by supporting people with disabilities in a variety of community activities. This interaction assists in the development of meaningful social and job connections in the lives of individuals with disabilities. You will work one-on-one with individuals with special needs to achieve success in volunteer activities (food bank, animal shelters, libraries, etc.), recreational opportunities (art classes, cooking lessons, etc.) and career exploration (resume preparation, etc.). A High School Diploma and prior experience supporting people with disabilities along with the ability to work in various community settings is required. You must be able to work a flexible schedule, have a valid driver's license and have the use of a personal vehicle to transport consumers (mileage is reimbursed). Starting wage is $12 per hour with an increase to $13 after 6 months and $14 after 1 year. An additional $250 bonus is available at one-year of employment. For more information about this position, contact Cynthia Phillips by email or phone at 610-289-0114 x229.
Early Intervention Therapists

We have a robust Early Intervention program serving families across seven counties. Our independent contractors enjoy competitive rates, flexible scheduling, weekly reimbursement, superior administrative support and more. We are seeking contractors in the areas shown below. For information or to apply, contact Jill Glose, Vice President Clinical Services, by email or phone 610-289-0114 x201.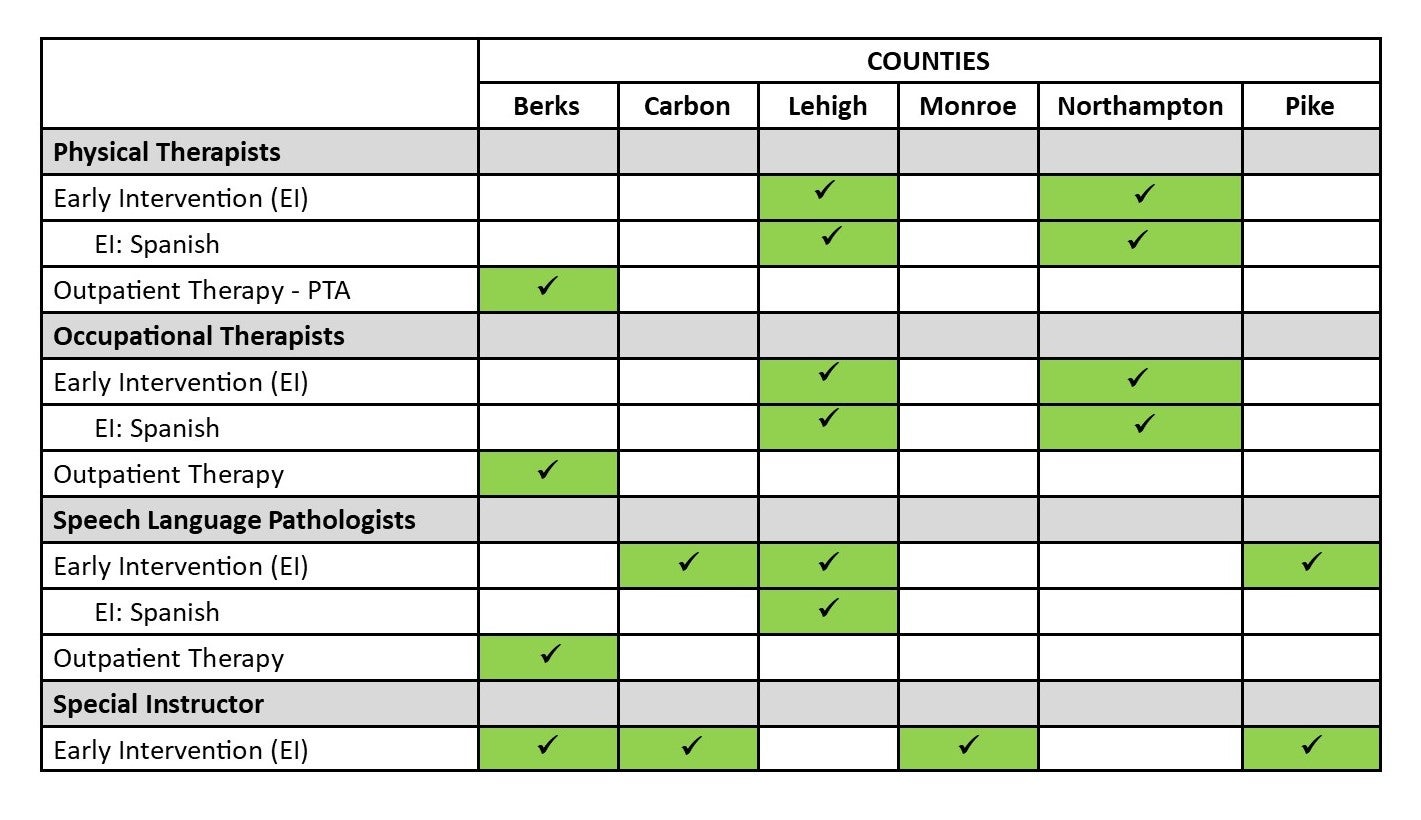 For other employment or contracting opportunities
Contact Kerri Finkle by email or phone at 610-289-0114 x207.