Adaptive Climbing Wall
Newest addition to our therapy program
We are pleased to announce that we recently (July 2021) installed an adaptive traverse climbing wall at our outpatient therapy center Reading, thanks to a $14,328 grant from The Neag Foundation. This newest addition to our therapy program will allow our therapists to engage consumers in new and exciting ways.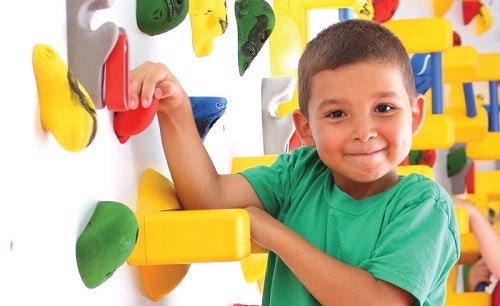 The climbing wall will challenge and inspire the children in our occupational and physical therapy programs while adding an element of fun. Climbing from one side to the other will help children with varying disabilities build confidence and sense of accomplishment as they practice balance, build body awareness, increase muscle strength, develop gross motor skills and problem solve. Climbing also provides proprioceptive input to improve sensory integration. The wall features large handholds, grab bars and wide ledges to place feet, providing stability, extra support and feeling of control.
A portion of the grant will be used to purchase a changing table with motorized lift for the family bathroom. For a number of years, we have wanted to provide one for the individuals and families with serve to make life easier and reduce the risk of injury.
About The Neag Foundation
The Neag Foundation serves as a philanthropic force for positive change in education, health, and human services initiatives dedicated to improving the human condition and making a positive difference in the world. It supports requests to improve and enhance education, human services and make a medical impact, primarily in Pennsylvania and Connecticut. The foundation's mission is to provide grants that improve and enhance communities. In all cases, the goal is the same: to make a positive impact and help people live healthier, happier, and more productive lives.
The Neag Foundation celebrates the life and legacy of Raymond and Carole Neag. Ray Neag, a philanthropist who worked in the medical device industry, passed in 2018 and Carole continues to carry on their work and impact, contributing to many educational and charitable institutions. They are among the most prominent supporters of the University of Connecticut. Their gifts transformed the Neag School of Education and the Carole and Ray Neag Comprehensive Cancer Center and made significant contributions to many other programs, helping to raise UConn's national profile. The Neags are also well known to Berks County for their generosity, donating to the Caron Treatment Center in South Heidelberg Township, the Neag Planetarium in Reading, and the Penn State Health St. Joseph Medical Center.