Employment Services
Transforming lives through work
Did you know? The unemployment rate among adults with disabilities is nearly 12 times the national average. Two out of three people with disabilities want to work, but have not been able to secure jobs because of accessibility and attitudinal barriers.
At Easterseals Colorado, we believe all people should be 100 percent included and 100 percent empowered in the workforce. We focus on defining and finding the right job, regardless of age or ability. Working with Employment Services, you'll be provided with the training and guidance you need to prepare for and enter the workforce so you can earn money to live and thrive.
Who do we serve?
Client Employment Services provided by Easterseals are designed for:
Persons with disabilities whose functional limitations present substantial barriers to employment
Persons experiencing barriers to employment that need to find stable employment
Persons that need supportive work places that can allow them to grow into their full potential
Employers who would like to increase and diversify their pool of eligible workers

What do we do?
Employment Services creates and prepares work settings that promote the most independent work for each specific client. Working collaboratively with other agencies we create job opportunities that are individualized and designed to match the skills and strengths of the client with the needs of the employer.
Employment Services creates individualized plans to guide clients to their fullest potential. These plans help our clients understand and strive for their best in a setting that allows them to make measurable progress and reach identified goals. Reaching these goals continually develops each client's job skills allowing them to maintain employment in a supported setting or work completely independently.
Learn more about what we do by clicking on the links below:
For More Information
Christian Freeman, BA, WIP
Senior Director of Employment Services
cfreeman@eastersealscolorado.org
720.989.7540
(Pronouns: She, Her, and Hers)
Employment Success Stories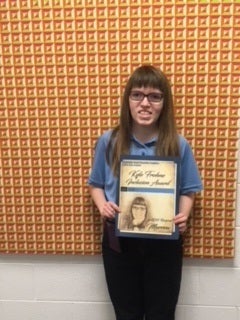 One of our employment clients, Cynda, received an award from Colorado Cross-Disability Coalition! The award was presented to her by the mother of Kyle Frohne. He was an instrumental advocate and example for achieving inclusion in employment in the community dispute, having the extra challenge ones disability presents. Several individuals were nominated for the 2018 ADA award and it was presented to Cynda due to her successful employment at Walgreens. She has been with Walgreens now THREE years. Congratulations Cynda!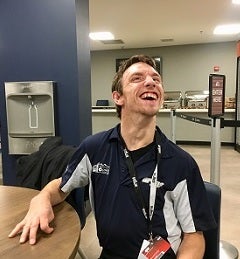 Congratulations to Chris! Chris now works at the Breckenridge Brewery Mountain House inside the Pepsi Center. Chris has cerebral palsy and worked on the Easterseals Colorado (ESC) cleaning crew for a couple of years, but decided he wanted to expand his horizons. Chris loves sports and music, so the ESC employment department helped Chris find a job at the Pepsi Center. Chris is now a Patio Monitor. He loves his new job and continues his strong work ethic and positive attitude, despite his disability.



Employment Partners

240 Union
Advanced Auto Parts
Alamo Draft House
Alpine Lumber
AMC Theaters
Anglers All
arc Thrift Stores
American Solutions for Business
Aramark
Burlington
Casey's Carwash
Centre Avenue (Columbine Health)
Children's Hospital Colorado
Colorado Parks and Wildlife
Crumbl Cookies
Die Cut Technologies
Esh's Grocery Market
Easterseals Colorado's Career Academy
Easterseals Colorado's Snack Shack
Easterseals Colorado's Vestal Center
Gleam Carwash
Habitat for Humanity ReStore
Home Depot
Johnson Storage & Moving Company
King Soopers
Lakewood
Larimer County Courthouse
Macy's
MAD Greens
Mainstay Suites
MERS Goodwill
Panhandlers Pizza
Planet Fitness
Poudre School District
Red Rocks Park and Amphitheater
Ross
Spectra
Sprouts Farmers Market
UCHealth
United Artist Theaters (Regal Cinemas)
University of Denver
UPS
Walgreens
Walmart
Wendy's
Whole Foods