Employment Services
Transforming lives through work
Did you know? The unemployment rate among adults with disabilities is nearly 12 times the national average. Two out of three people with disabilities want to work, but have not been able to secure jobs because of accessibility and attitudinal barriers.
At Easterseals Colorado, we believe all people should be 100 percent included and 100 percent empowered in the workforce. We focus on defining and finding the right job, regardless of age or ability. Working with Employment Services, you'll be provided with the training and guidance you need to prepare for and enter the workforce so you can earn money to live and thrive.

Who do we serve?
Client Employment Services provided by Easterseals are designed for:
Persons with disabilities whose functional limitations present substantial barriers to employment
Persons experiencing barriers to employment that need to find stable employment
Persons that need supportive work places that can allow them to grow into their full potential
Employers who would like to increase and diversify their pool of eligible workers

What do we do?
Employment Services creates and prepares work settings that promote the most independent work for each specific client. Working collaboratively with other agencies we create job opportunities that are individualized and designed to match the skills and strengths of the client with the needs of the employer.
Employment Services creates individualized plans to guide clients to their fullest potential. These plans help our clients understand and strive for their best in a setting that allows them to make measurable progress and reach identified goals. Reaching these goals continually develops each client's job skills allowing them to maintain employment in a supported setting or work completely independently.
Learn more about what we do by clicking on the links below:
For More Information
Adams, Arapahoe, Boulder, Broomfield, Clear Creek, Denver, Douglas, El Paso, Jefferson and Summit counties:
Carla Lopez, dintake@eastersealscolorado.org, 303.233.1666 x 230
393 S Harlan St, Suite 180, Lakewood, CO 80226
Larimer, Northern Boulder and Weld counties:
Luke Bainer, lbainer@eastersealscolorado.org, 720.989.7540
1656 Topaz Dr, Loveland, CO 80537

Employment Success Stories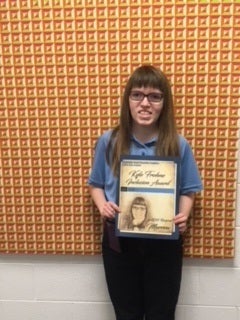 One of our employment clients, Cynda, received an award from Colorado Cross-Disability Coalition! The award was presented to her by the mother of Kyle Frohne. He was an instrumental advocate and example for achieving inclusion in employment in the community dispute, having the extra challenge ones disability presents. Several individuals were nominated for the 2018 ADA award and it was presented to Cynda due to her successful employment at Walgreens. She has been with Walgreens now THREE years. Congratulations Cynda!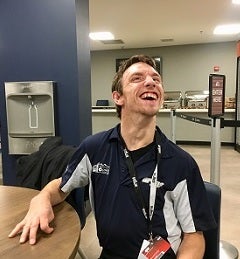 Congratulations to Chris! Chris now works at the Breckenridge Brewery Mountain House inside the Pepsi Center. Chris has cerebral palsy and worked on the Easterseals Colorado (ESC) cleaning crew for a couple of years, but decided he wanted to expand his horizons. Chris loves sports and music, so the ESC employment department helped Chris find a job at the Pepsi Center. Chris is now a Patio Monitor. He loves his new job and continues his strong work ethic and positive attitude, despite his disability.



Employment Partners