All Abilities. Limitless Possibilities.
Leading the way to creating a Colorado where everyone, regardless of age or ability, is 100% included and 100% empowered.
Donate Now.
100% Included and 100% Empowered
As a vital resource for all people with disabilities, older adults and caregivers in rural and urban communities across the state, Easterseals Colorado provides programs and supports that enhance quality of life and create opportunities for greater independence at home, at work and at play. By advocating for an equitable and inclusive Colorado, we ensure those we serve have the rights and resources to thrive.
Show Me Information For
Sign Up for our e-Newsletter
To get the latest information, stay up-to-date, learn about upcoming events, learn how to get involved, and stay in touch with Easterseals Colorado, please sign up for our Mailchimp e-Newsletter. We send a monthly newsletter on the 3rd Wednesday of every month with 1-2 other monthly emails. Click the button below to sign up now!
Click Here to Sign Up Now.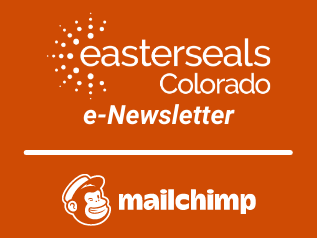 What's New At
Easterseals Colorado
Recent Posts From
Easterseals Colorado