Purchase Mike Peters Merchandise



Mother Goose & Grimm by Mike Peters appears in over 800 newspapers worldwide and consistently places in the top 10 most popular ratings. Licensees distribute Grimmy products all over the world, and the Grimmy TV show continues to air in several countries. Grimmy is also on the internet receiving over 5,000 visits a day. Mother Goose & Grimm is included in the Toon Lagoon theme park at Universal Studios that opened in July 1999.
Merchandise generously donated by Aaron LaPedis of Fascination St. Fine Art Gallery. All proceeds from product purchases will benefit Easterseals Colorado programs and supports for all people with disabilities, older adults, and caregivers across the state.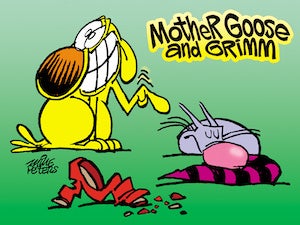 CLICK HERE to visit the online store.
Products Available for Purchase to benefit Easterseals Colorado: