Rocky Mountain Village Respite Weekends
UPDATE! - Rocky Mountain Village will not be hosting any respite weekends during Fall/Winter 2022. We hope to bring the program back in 2023.
During the non-summer season, RMV provides R&R weekends. Campers come up to Rocky Mountain Village to get away and relax while giving their families a short rest from caregiving. Please stay tuned as we navigate the challenges of this pandemic. We hope to be able to offer Respite Weekends this winter and next spring and will have updates once we finalize planning.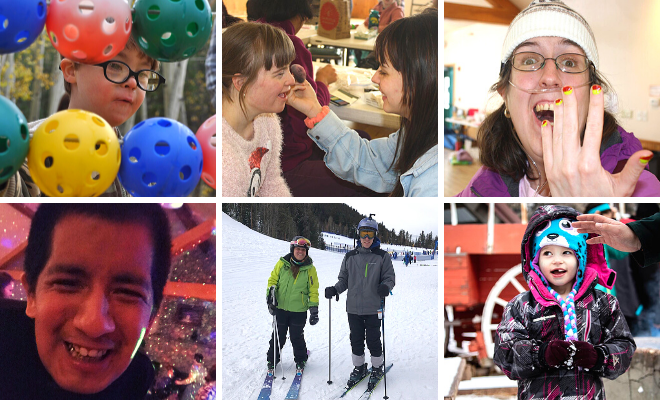 Below is what our Respite Weekends have looked like in the past! We are planning to bring these back in 2023!
NOVEMBER
Escape to the Mountains (Ages 6 and up) - Scavenger hunts, art & crafts, drum circles, swimming, dancing, and games.
DECEMBER
Holiday Getaway (Ages 6 and up) - Sit by the fire, make cookies, get into some awesome holiday crafts, sing, dance, and play lots of games!
JANUARY
Ski Respite (Ages 6 and up) - Get settled in on Friday at camp, take off for skiing on Saturday, and heal those sore muscles Saturday evening with some awesome camp activities.

Winter Wonderland Weekend (Ages 6 and up) - All sorts of fun activities will be going on at RMV - painting counselors, drawing with shaving cream, building snowmen, and maybe even swimming at the local rec center.
FEBRUARY
Girls Slumber Party (Ages 6 and up) - LADIES, it's time to come to camp to get pampered! Manicures and pedicures, sitting around in our jammies, listening to music, eating popcorn, and catching up.

Guys Night Out (Ages 21 and up) - GUYS, meet up with your buddies and have a night out! We will start out on Saturday with check-in in Lakewood, eat dinner, head out to some awesome events, and spend the night at camp.
MARCH
Tony Grampsas Youth Services Program Coming Up For Air Family Weekend - Throughout the weekend, children will receive support by trained staff and volunteers and participate in fun, recreational activities while parents/caregivers gain community resources, financial tips and tools to manage stress. Coming Up for Air is partially funded by a Tony Grampsas Youth Services grant.
(Weekend 1) For families facing the challenges of caregiving with children and teens with special needs and their siblings
(Weekend 2) For kinship, adoptive and foster families facing the challenges of caregiving with children ages 6 and up


Volunteer Opportunities
Interested in volunteering for any of our Respite Weekend Camps? Click here to learn more on how you can be involved.