Discovery Club
A chance for children & teens with disabilities & their siblings to discover, learn, explore and grow.


What is Discovery Club?
A Saturday recreational program for children and teens living with any disability and any special health care need. Participants spend time with their peers enjoying activities such as art, games, music and more while being cared for by nursing students. Our staff of trained professionals are able to take care of children and teens with significant needs, including feeding, restroom assistance and administration of medication. While participants are attending Discovery Club, their caregivers receive a break from providing care.
Who can attend?
Children and teens ages 6-18 living with any disability, including those with extensive needs. Siblings are welcome.
When and where?
Saturdays from 10:00 a.m. to 4:00 p.m. monthly from September through May (excluding holiday weekends). Specific dates vary from location to location. There are four Discovery Club locations in Aurora, Boulder, Highlands Ranch and Northglenn.
Our Staff
Discovery Club is staffed by a Registered Nurse, a Program Director and nursing students from nursing schools in the area. Often, participants can receive 1:1 care.
Fees
$40 Annual Registration Fee.
$35 Per Person Per Session
$60 for 2+ Children per session (Same Family)
Financial Assistance Available
All forms must be submitted prior to attendance.
Payment
There are several options for payment. Feel free to pay by check made payable to Easterseals Colorado or click
here
to purchase online.
---
Registration Forms
CLICK HERE to download the 2019-2020 Discovery Club Registration Packet.
Once you have downloaded the above packet, please complete, print and mail to:
Easterseals Colorado
Attn: Peggy Brown
393 S Harlan St, Suite 250
Lakewood, CO 80226
You may also scan the document and email it to pbrown@eastersealscolorado.org or fax it to 303.233.1028 attn: Peggy Brown.
---
Locations and Schedule
AURORA
Holy Love Lutheran Church, 4210 S. Chambers Road, Aurora, CO 80014
DATES: Sept 28, Oct 26, Nov 23, Jan 25, Feb 22, Mar 28, April 25, May 23
(fourth Saturday monthly)

BOULDER
Boulder Valley Christian Church, 7100 S. Boulder Road, Boulder, CO 80303
DATES: Sept 14, Oct 12, Nov 9, Dec 14, Jan 11, Feb 8, Mar 14, April 11, May 9
(second Saturday monthly)

HIGHLANDS RANCH
The Living Way Fellowship Church, 345 E. Wildcat Reserve Parkway, Highlands Ranch, CO 80126
DATES: Sept 21, Oct 19, Nov 16, Jan 18, Feb 15, Mar 21, April 18, May 16
(third Saturday monthly)
NORTHGLENN
Gethsemane Lutheran Church, 10675 N. Washington Street, Northglenn, CO 80233
DATES: Oct 5, Nov 2, Dec 7, Feb 1, Mar 7, April 4, May 2
(first Saturday monthly)
CLICK HERE to download our 2019-2020 Discovery Club Brochure (.pdf) which includes the locations and schedule.
CLICK HERE for a SPANISH version of our 2019-2020 Discovery Club Brochure (.pdf).
---
Sponsors
Thank you to the many organizations that have come together to support Easterseals Colorado Discovery Club.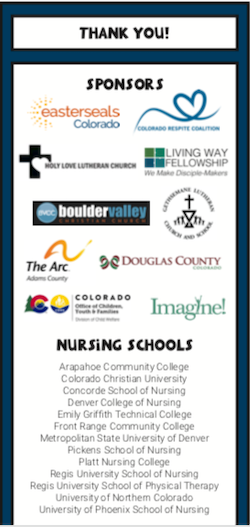 ---
Read what parents are saying about Easterseals' Discovery Club:
"It's reliable, safe and my son really likes it. It's my husband's and I only opportunity for a date!" - Dawn
"Knowing my son is in a safe environment, having fun and supervised by folks who understand his needs, while I have some respite time off." - Margie
"It is time for me to enjoy my spouses company, to build our marriage and reconnect!" - Ann