Disability Inclusion Program (DIP)
Easterseals Colorado is thrilled to offer the Disability Inclusion Program (DIP) funded by Denver Human Services and the generosity of citizens of the city and county of Denver. Through our DIP into Disability Speaker Series and Disability Etiquette Trainings, we help businesses and organizations better understand the disability system and how to support individuals with intellectual and developmental disabilities (I/DD) in the workplace.
Disability Etiquette Trainings
Inclusive business practices benefit everyone. Our FREE Disability Etiquette Training helps build awareness and reduce stigma surrounding people with intellectual and developmental disabilities. Easterseals Colorado works with Denver-based businesses, clubs and organizations on a variety of training options to encourage a more welcoming and inclusive culture and environment. We can provide trainings virtually or in person at your location.
Training Options:
Lunch & Learn - This introductory training, designed to be held over the lunch hour, will provide an overview of disability etiquette.
Half-Day & Full-Day - A more in-depth and interactive training tailored to meet the specific needs of your business, club or organization.
Planning Opportunities - This training will cover the value and benefits of hiring individuals with I/DD and address any concerns an employer may have.
Innovative Networking - An Easterseals Colorado facilitated opportunity for businesses to work together to share their experiences, successes, challenges and implement change.
Presenters:
Laura Pals, Easterseals Colorado
Jocelyn Roy, Artist at Access Gallery - Jocelyn's passion for disability inclusion began through supporting children with disabilities at a local elementary school. She impacts others by sharing her experiences living with a disability, sharing resources, and using her advocacy skills to educated others. Jocelyn landed at Access Gallery at age 17 where she follows her dream of being an abstract and mixed media artist.
Brittany Murdock, Artist at Access Gallery - Brittany is a self-taught artists who has been with Access Gallery since 2005, joining the gallery through an internship program at her high school. Smart and determined, Brittany is no stranger to adversity. Living with cerebral palsy and limited resources, Brittany created her own business, Brittany's Accessories, and sells a variety of mixed media art including her pony beads.
Interested in learning more? Contact Laura Pals, lpals@eastersealscolorado.org.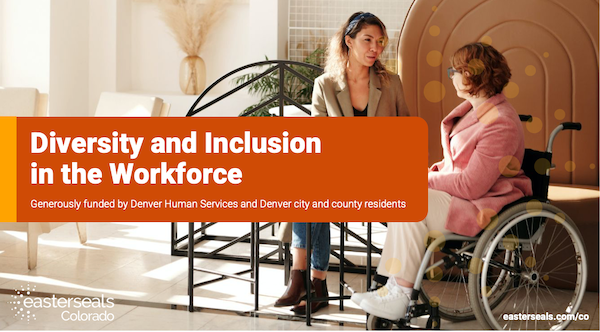 DIP into Disability Speaker Series
A FREE Speaker Series that will help you navigate the disability system and provide education on supports available in the community. This Speaker Series will leverage the expertise of Easterseals Colorado's many programs and partners, to provide valuable information for individuals living with I/DD and their family members or caregivers, as well as Denver's teachers, service providers and other businesses.
*Due to the coronavirus pandemic, the Speaker Series will now be posted as pre-recorded videos.
Please register and RSVP for beforehand online. We ask that you do not share the direct YouTube link as we are required to track attendance for reporting purposes. However, please feel free to share this website with your networks.
Past Speaker Series Topics Include (Listed from newest to oldest. Click the links below to register and for more detailed information on each speaker series.):