Early Childhood Intervention (ECI)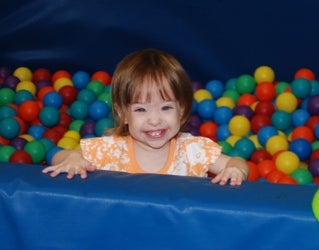 The Easterseals Central Texas Early Childhood Intervention (ECI) program serves babies and toddlers, aged birth to 36 months, with developmental delays or disabilities. Easterseals' staff of early childhood specialists, therapists, social workers, and other professionals work in homes, childcare facilities, and other community settings to conduct evaluations and provide services to children and their families. Service coordination with other agencies is provided at no cost and is an essential component for integrating services around family-centered goals. These services are accredited by The Rehabilitation Accreditation Commission (CARF) under its Pediatric Family Centered Best Practice Standards. (Presione aquí para el español)
Services offered through ECI are: developmental services, physical, occupational, and speech therapy, family education, counseling services, screenings and assessments, and activities to prepare children for the "next step" in their development. Families and staff work as a team to develop individualized plans of care for children and their families.
Easterseals is the nation's leading provider of help, hope and answers to families living with Autism today. Easterseals Central Texas offers multiple support programs and interventions to address the affects of Autism throughout the person's lifespan.
For more information about our ECI program contact:
Jessica Portilla
Senior Director, Children & Family Services
Phone: (512) 615-6867
Fax: 1-855-212-9474
The first five years are critical in a child's life. How is your child doing? You only need 10-20 minutes to check with the Ages & Stages Questionnaires®, Third Edition. Your ASQ-3™ results will help you see if your child's developmental progress is on time and alert you to concerns that you can talk over with your health care provider. To learn more about our Make the First Five Count Program, click here.
Easterseals Central Texas ECI providers serve the following ZIP codes in the Austin area:
78615, 78621, 78653, 78660, 78664, 78701, 78705, 78712, 78722, 78723, 78724, 78731, 78751, 78752, 78753, 78754, 78756, 78757, 78758.
More Information:
Texas Department of Health and Human Services - Children with Special Health Care Needs Program
Advocacy Resources
ARC of Texas
Growing Roots
National Federation of Families for Children's Mental Health
March of Dimes, Texas Chapter
Texas Council for Developmental Disabilities

Developmental Information
KidsHealth
Zero to Three

General Health
American Academy of Pediatrics
Healthy Children
National Institutes of Health