Advocacy and Public Policy
As part of Easterseals' broader mission to change the way the world defines and views disability by making profound, positive differences in people's lives every day, Easterseals Central Texas Advocacy and Public Policy department educates policymakers on issues impacting people with disabilities and promotes policies that advance disability rights in Texas.
Easterseals Coalition Serving Texas
The Advocacy and Public Policy Department houses Easterseals Coalition Serving Texas (ECST). ECST is a nonpartisan advocacy coalition working to amplify the priorities of people with disabilities through providing parents and self-advocates with training and resources and promoting policies that advance disability rights in Texas.

ECST comprises four Texas Easterseals affiliates: Easterseals Central Texas, Easterseals Greater Houston, Easterseals North Texas and Easterseals Rio Grande Valley. Together, we provide an array of supportive services for people with disabilities across the lifespan, from Early Childhood Intervention (ECI) services for infants and toddlers to respite care for aging adults. ECST is dedicated to expanding and protecting disability rights so that all Texans can live independently and realize their hopes and dreams.
Easterseals Leadership Development and Advocacy Training Program
Although our Advocacy and Public Policy Department works every day to educate legislators on issues impacting people with disabilities, we know that the most powerful and impactful testimony and education comes from parents and self-advocates who are experts on the issues and programs impacting their day to day lives. For this reason, the Easterseals Leadership Development and Advocacy Training Program provides free training, resources, and ongoing support to empower individuals with disabilities and family members to advocate at the local, state, and federal levels. Ongoing training opportunities are offered throughout the state in both English and Spanish. For more information about our Advocacy Training program, contact Lauren Rangel at lrangel@eastersealstx.org or 512-615-6872.
View video: Gloria's Advocacy Story (English subtitles) (Spanish subtitles)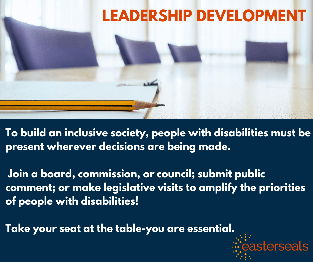 Financial Support for the Easterseals Leadership Development and Advocacy Training Program is provided by the Texas Council for Developmental Disabilities, with Federal funds* made available by the United States Department of Health and Human Services, Administration on Intellectual and Developmental Disabilities. *$64,394 (76%) DD funds; $20,643 (24%) non-federal resources.
Self-Advocacy Resources

Leadership Development and Advocacy Training: this 12-page document includes resources to help persons to engage in person-centered thinking and self-determination, utilize person-first language, identify a priority issue, and engage in effective communication with legislators.
Advocacy and Resource Organizations: this document lists statewide resources for families of children with developmental disabilities and delays as well as advocacy organizations.
Reading and Analyzing a Bill Worksheet
Public Policy Development
Although the Texas legislature meets for only 120 days every other year, policies that impact the lives of people with disabilities are being proposed every day. For this reason, ECST provides updates and action alerts to ensure parents and self-advocates are aware of opportunities to submit testimony/comments to their elected officials and other decision-making bodies.

Check out our Facebook events calendar for public hearings and other forums to participate in.
Keep up with the fast-paced world of public policy and get our urgent action alerts by following our Facebook and Twitter!
Learn about the day to day work of our Advocacy Department in our Advocacy Blog News from the Capitol here. The blog will keep you up to date on our legislative priorities, proposed policies and provide you with our most recent testimony and public comments.
Interested in disability advocacy on the federal level? Learn more about our national affiliate's public policy priorities, campaigns, or sign up to receive their advocacy alerts.

Surveys and Research
To inform our training, advocacy and legislative priorities, Easterseals often collects qualitative and quantitative data on issues impacting people with disabilities. The coalition also works in collaboration with various stakeholders to publish reports/briefs on issues impacting people with disabilities across Texas and policy recommendations to address them.
Currently, we are collecting information via the following surveys:
Legislative Priorities Survey
ECST works to amplify the priorities of people with disabilities through advocating for progressive disability rights policy. As we prepare for the coming 87th Texas legislative session, please take a few moments to let us know what matters to you by taking our Public Policy Priorities Survey!

To build an inclusive society self-advocates, families and service providers must be present wherever decisions are being made. Take your seat at the table by directing and focusing our advocacy-you are essential!

Participate in the survey.

Inclusive Childcare Survey
The purpose of the Inclusive Childcare Survey is to both identify barriers to childcare impacting families of young children with disabilities and to assess areas in which childcare providers need additional support to serve children of all abilities.
Previous surveys include:
Classroom Cameras Survey
During the 84th Texas legislative session, the legislature passed Senate Bill 507. Through language in Texas Education Code section 29.022 the legislation requires school districts to conduct audio and video surveillance in certain special education classrooms or settings upon request. The statute is intended to protect students who, because of a disability, may not be able to report mistreatment by district employees or other students. The purpose of this survey was to gather information from family members and self-advocates about awareness of the camera procedures, and firsthand experiences requesting cameras and footage to inform continued advocacy on the issue.

Autism Insurance Survey
Due to various reports of barriers to access the diagnosis and treatment of Autism in Texas, this survey collected information about the process that parents undertake to receive a diagnosis of Autism, difficulties that they may face in that process, services they access for their children and insurance policies surrounding accessing those services. You can access the survey questions here.

Shadow Discipline in Schools
In collaboration with Texas Appleseed and Disability Rights Texas, Easterseals Central Texas designed and distributed a statewide survey of families and educators to assess the prevalence of both formal and "shadow" discipline in schools and its impact on educational opportunity for students disproportionately impacted by these practices. To download the Shadow Discipline in Texas Schools brief, click here.

INTEGRATE Housing! Project
Through survey research, data analysis, and in-person interviews, the Easterseals Central Texas advocacy department completed the INTEGRATE Housing! Project to examine the intersection of mental health and housing issues across the state and craft policy recommendations to support individuals with mental health conditions in Texas.

Campaigns

Based on the priorities of the families that we serve, ECST undertakes legislative advocacy and awareness campaigns to inform legislators about issues impacting them.

#ECIWorks
ECI supports infants and toddlers age 0-3 with disabilities and their families through providing critical interventions such as speech, occupational, physical therapies, specialized skills training, and targeted case management services. Unfortunately, due to underfunding, and Medicaid rate cuts, many contracted providers of the program have left, and other providers have had their capacity to identify eligible children dramatically reduced.
As a Make the First Five count partner, we recognize the critical importance that the first years of life have on child development, and for that reason in the 86th Legislative Session ECST worked to support the IDEA Part C Early Childhood Intervention (ECI) program through public testimony, legislative visits, and most importantly amplifying the stories of families impacted by the program through our #ECIWorks campaign.
Our #ECIWorks campaign featured families of children who have accessed ECI across the state. Families shared their stories with legislators via social media graphics and informational pamphlets on the importance of funding the program.

Interested in supporting ECI? Sign up to advocate or share your story here.
#SchoolShouldntHurt
During the 87th legislative session ECST plans to continue our work on school discipline and safe and supportive schools through advocating for equitable access to cameras in the classroom, policies to decrease instances of restraint and seclusion, and to promoting the use of positive behavior intervention supports and trauma informed practice in schools rather than exclusionary and shadow discipline practices.

Collaboration

Systems change requires a great deal of collaboration. For the reason Easterseals seeks to actively engage with other organizations that support our family's public policy priorities including but not limited to healthcare access, educational opportunity and developmental screening.
Recent collaborations include: attaining Success by 6 Coalition membership and actively participating in Cover Texas Now, the Disability Policy Consortium, Children's Healthcare Coverage Coalition, the Coalition for Special Education Equity in AISD, the TEA Special Education Roundtable, and the Home-Based Services, High-Quality Childcare, and Developmental Screening workgroups of the Texas Pritzker Children's Initiative Planning Grant phase.
Connect with ECST!
ECST actively seeks partnerships with parents and self-advocates, and other organizations that seek to promote progressive disability rights policy.
Are there issues impacting your community, school, or family that you would like ECST to research or advocate on?
Would your organization like for Easterseals to provide you with Leadership and Advocacy Training?
Would you like opportunities to directly support Easterseals Advocacy work?
Do you need informational resources to engage in advocacy or receive supportive services?
Would your organization like to collaborate with ECST on research/advocacy?
Reach out to us via email at advocacy@eastersealstx.org
Sign up for our newsletter, which includes supportive resources for families, advocacy updates and opportunities for engagement here!