Partners
Commitments to Easter Seals
Look closely at what makes Easter Seals unique from other health and human services providers, and it becomes clear: Easter Seals' greatest strength comes from corporate sponsors, foundations, and individuals, as well as, community volunteers who make a difference as Easter Seals creates solutions that improve the lives of people with disabilities.
HCA/Tri-Star Community Cares Day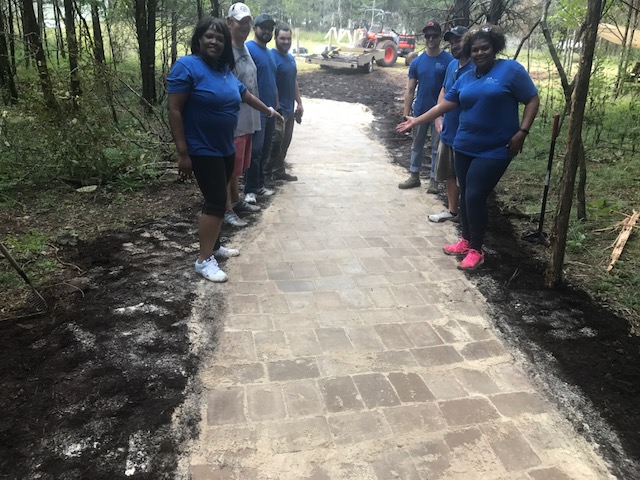 Easterseals Tennessee is thrilled with the new walkway to the Day Camp archery range that the HCA volunteers constructed making the area accessible to all.
For the past several years, HCA volunteers have helped us improve several activities at camp, and what a difference it has made in the lives and the fun of our children and adults as they explore the outdoors, recreate and socialize.
Thank you HCA for all you have done to make so much possible for those living with disabilites in our community! http://www.hcacaring.org/
Alphagraphics Music City
Learn more about Alphagraphics Music City, an Easterseals Tennssee printing partner.
Tennessee Arts Commission
Easterseals Tennessee is proud to partner with the Tennessee Arts Commission. As they celebrate 50 years of cultivating the arts for the benefits of all Tennesseans and their communities, we applaud them.They support arts education to help increase student outcomes.
Currently, through one of their mini-grants Easterseals Tennessee is able to provide arts education through theatrical performances to many of our adult members living with disabilites and special needs. Our members are able to enjoy the thrill of a community outing that is aesthetically pleasing and educating, which helps create more possibilities for them and their future.
CVS Health
CVS Health is the nation's premier integrated pharmacy services provider, combining one of the nation's leading pharmaceutical services companies with the country's largest pharmacy chain. For more than a decade, CVS has been a corporate partner of Easter Seals. CVS Health continues to support children with disabilities across the country through the CVS All Kids Can™ Program. Easter Seals is privileged to be selected as a national partner in the initiative, which promises to help children with disabilities learn, play and succeed in life!