For Immediate Release
SAVE THE DATE: 30th Annual Festival of Chefs
May 25, 2018
Media Contact:
Nanette Molina
nmolina@sfl.easterseals.com
305-777-6835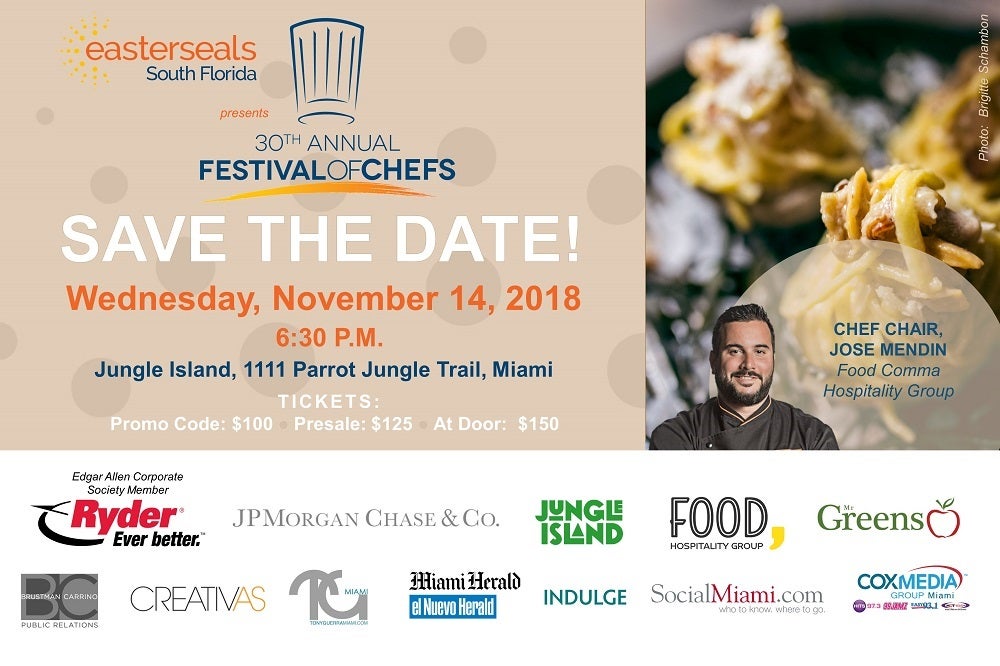 James Beard Foundation's "Best Chef South" for five consecutive years and Food Comma Hospitality's Award-winning Founding Partner and Chef, Jose Mendin will lead an exquisite evening of culinary adventure at the 30th Annual Festival of Chefs event taking place Wednesday, November 14 at Jungle Island Miami. The annual event pays tribute to South Florida's culinary scene with an evening of featured signature dishes, wine & spirit tastings, silent auction and entertainment, all to benefit the Easterseals South Florida Culinary Arts High School, a vocational training program for students with autism and other disabilities. At Festival of Chefs, Easterseals culinary students showcase their abilities with a signature dish and incredible hospitality.

Chef Mendin will be joined by a stellar lineup of chefs from more than 30 of the area's most prominent restaurants. Their signature dishes will be complemented by a variety of wine and spirits as well as local award-winning desserts, a silent auction of original paintings, sculptures, multimedia artwork, travel, vacations, fine jewelry, and restaurant experiences, which promise for an altogether memorable evening.

For sponsorship information, please click here.