Introduction
"Your life and mine shall be valued not by what we take... but by what we give." Those words, spoken by Easter Seals' founder Edgar Allen over 90 years ago, began a movement. Today, we're thankful to you for being a part of that movement. With over 50 million Americans living with disabilities, our work is far from complete. We encourage you to help us call attention to the experience of people with disabilities, and to raise awareness of and advocate for the services they need to live, learn, work and play in their communities.
In the spotlight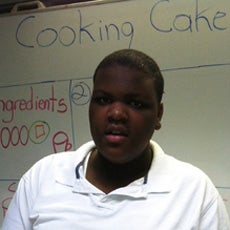 When Jayson began at Easter Seals Academy last fall, he was in 7th grade but functioning academically at a Pre-Kindergarten level. Jayson, age 13, did not speak, could not hold a crayon or pencil, did not look or interact with anyone -- even his mother. The teamwork between Easter Seals South Florida teachers and his family has paid off. Jayson has made significant progress. He can write some words, interact and express his feelings with words. Keep up the good work Jayson. Learn more about our Children's Services and Autism Services at Easter Seals South.
Easter Seals South Florida Needs You!
Easter Seals South Florida helps children with disabilities such as autism and cerebral palsy, and adults suffering from Alzheimer's disease and dimentia.
Statistics of how Easter Seals South Florida helped in 2012:
9,588 meals prepared and delivery by young adults with disabilities for military
2,382 hours of occupational, speech and physical therapy provided
575 children participated in our afterschool programs
421 seniors served with Alzheimer's disease and/or memory disorders
200 vocational evaluations completed
139 families supported through our in-home respite care program
84 infants and toddlers attended our Child Development Center
In order to provide exceptional services for these individuals, we need your time, commitment and financial support. Several annual fundraisers are held every year with special thanks to sponsors and volunteers.
Our calendar changes often, so check back frequently.
2014 Easter Seals South Florida Signature Events
Golf Fiesta