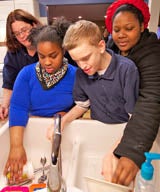 Home is a special place to feel safe, secure, and comfortable, and to be accepted for who you are. For many local children and adults with multiple disabilities, that special place is a group home provided by the Easterseals Rehabilitation Center. Six supervised group living households are located in residential neighborhoods in Evansville, IN, one in nearby Newburgh, IN, one in Chandler, IN, and one in Mt. Vernon, IN.
"We work with adults who have significant disabilities," said Kelly Schneider, president of the Easterseals Rehabilitation Center. "We really have two primary missions in our group home program. One is to increase individuals' independence, and the other is to enhance their quality of life."
Eight adults live in each residence full time, generally for the long term. Homes are staffed around the clock. Staff members help to create a home-like atmosphere and assist residents in participating in recreational and social activities throughout the community. Transportation is provided daily to school, work, vocational programs, or other day services. It is the goal of the Easterseals Rehabilitation Center to enable individuals to live meaningful, productive lives in the community. Individual goal plans help each person achieve his or her greatest potential for independence.
Services at the Easterseals Rehabilitation Center - such as medical rehabilitation therapies, assistive technology, and fitness and recreation programs - are available as needed. Several residents also attend ASPIRE, our day program for adults with developmental disabilities.
Group home services are funded almost completely through Indiana's Medicaid program. Parents typically continue to act as legal guardians of children living in group residences, and family involvement is strongly encouraged.
For more information on Easterseals Rehabilitation Center group homes, contact us online or call 812-437-2604.
Easter Seals Rehabilitation Center's Group Homes has career opportunities!
Watch the video below to find out how you can make a difference as an employee in our Supervised Group Living program, then follow this link for job openings and an application!
---
NOW ENROLLING!
The Easter Seals Rehabilitation Center's Supervised Group Living program is now enrolling residents with developmental and intellectual disabilities. With 26 years of group home experience, our nonprofit, client-centered organization serves children, youth and adults. If you or a family member are in need of a caring, home-like, structured environment, contact us online or call 812-479-1411, ext. 223 or 254, for more information.