Our mission
Easter Seals provides exceptional services, education, outreach, and advocacy so that people living with autism and other disabilities can live, learn, work and play in our communities. Easter Seals has been helping individuals with disabilities and special needs, and their families, live better lives since 1919. From child development centers to physical rehabilitation and job training for people with disabilities, Easter Seals offers a variety of services to help people with disabilities address life's challenges and achieve personal goals.
Easterseals Florida Mission Videos
In the spotlight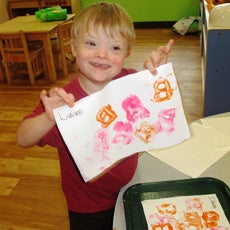 My name is Tracy, and I am writing this letter in regards to my son Jacob. Jacob started attending Easter Seals Igoe-Amar Child Development Center when he was just 5-6 months old. Jacob has Down syndrome among other health issues regarding his heart, asthma, etc. It was very important to me that my son got the best care upon entering a daycare facility. To me, Easter Seals is not just a daycare.
The Story of Easter Seals Florida
Easter Seals Florida is headquartered in Orlando, Florida. In business since 1948, Easter Seals Florida serves 40 of the state's 67 counties.

We work day in and day out, offering guidance, providing support and inspiring action, to ensure that children and adults of all abilities can turn to Easter Seals with whatever needs they may have- common or complex.
Primary Easter Seals services in Florida include: