Meet Sa'anvi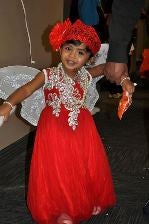 Those of us with kids or grandkids understand how stressful it can be trying to feed a picky eater. Easterseals works with kids who take "picky eater" to a new level. Due to sensory difficulties (the smell, look or feel of food), stomach problems, attention challenges, allergies and other reasons, some kids have a really hard time eating.
As an infant, Sa'anvi had a lot of difficulty with food, and as a result, was not getting the nutrition she needed for healthy development. She often cried at meals, seemed fearful and even threw up when mom or dad could get her to eat. It is easy to imagine the stress felt by everyone in the family as they faced this traumatic experience with their daughter three times a day.
At 15 months, Sa'anvi and her family started to get the help they needed. Carmit Bach, an Easterseals Occupational Therapist, began visiting Sa'anvi at her home to help her overcome her challenges with eating.
Although very shy at first, Sa'anvi and Carmit soon became fast friends and Sa'anvi started to look forward to Carmit's visits. Sa'anvi's family followed Carmit's recommendations and guidance, and soon, Sa'anvi started to make great progress with her eating. The praise and positive feedback she got as her eating improved also helped make meal times a lot more fun.
Before Sa'anvi began receiving services from Easterseals, mealtimes were filled with fear, tears and stress. Now, she is a wonderful eater. She eats a wide variety of food, likes to eat and asks to try new food when she sees it. She enjoys feeding herself and drinks from a cup. Before she wanted help all the time - now she likes doing things on her own. Not only has this made a tremendous difference for Sa'anvi who gets the nutrition she needs to grow up healthy and strong, but her entire family has benefited from the help they received. Mealtimes are fun, food is pleasurable and their beautiful daughter is thriving.
Sa'anvi's story is a great example of the way Easterseals makes a difference for children with disabilities and other special needs, and their families, here in our community.