For Immediate Release
Mom and Baby Find A New Path Together
January 1, 2021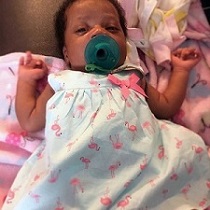 Kieosha's high school referred her to the Easterseals Safe Babies Healthy Families program during her senior year. She was terrified by the labor and delivery process, and, during her initial meeting with her Case Manager, shared that she struggled with her mental health, anger management, and stress. A tragic, unexpected loss of a close family member and a fraught housing arrangement only compounded these issues. Kieosha decided to drop out of school.
But she was not ready to give up, and with help from her Case Manager she re-enrolled and graduated in May of 2020. Kieosha even found a steady part-time retail job and started to develop effective coping mechanisms for her stress and anger. Safe Babies Healthy Families also provided childbirth education services to help ease her fears of labor and delivery. During each session with Safe Babies Healthy Families before the big day, Kieosha learned more about the importance of bonding with her baby, safe sleeping, breastfeeding, and other critical developmental topics.
Kieosha recently delivered Summer at 39 weeks. She weighed 7lb 6oz. Both Mom and Baby are doing great and are continuing to meet with their case manager weekly. Mom has developed an amazing bond with her daughter and has really grown in her own expectations of being a mom. Kieosha and her Case Manager have transitioned their discussions to focus more on age appropriate development, supports for new parents, and securing resources to ensure Summer thrives.
Mom is making great progress. She started cosmetology school at MATC this summer and solved her housing issue by moving in with her sister. Kieosha is thankful for her family's support. She will be able to work with Safe Babies Healthy Families until Summer is five years old.