Help Us Support Those Who Have Served Us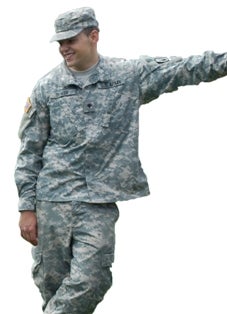 After serving for 20 years in the military, both Matt and his wife Lisa recently found themselves unemployed and living in their car. Although they were able to secure a campsite some nights, they spent many nights cramped in their car. When they heard about a local employment fair for veterans, they were hesitant to go.
"I was feeling kind of scruffy, and I wasn't sure I looked good enough,"
Matt explained.
"But we both needed jobs so I found a T-shirt and jeans, and kind of shaved quick in the car on the way to the job fair."
The employment fair, organized by Ellen, an Easter Seals Workforce Development Specialist for Veterans Services, would give them the opportunity to be introduced to 14 first-class employers and four military service agencies. Once inside the fair, Ellen warmly welcomed them and helped them find resources for food, encouraged Matt to contact the Milwaukee VA Medical Center and opened the door to other resources for them. Easter Seals teamed up with Support Services for Veteran Families (SSVF) to find housing for them. Ellen also coached Matt and Lisa in putting together a resume, designing a plan and starting a job search. "We were in unfamiliar territory; we had no clue how to start," Matt said. "The program gave us direction. We found it very supportive. It was good to touch base with people who could help. It put me in a more positive frame of mind and let me know what resources were available. This was important information."
Within two months, Matt and Lisa were both able to secure full-time employment with Triangle Services, and they now work at Waukesha County Technical College in the maintenance department. In late July, they moved into their new home. "Everything really helped," Matt explained. "We had to step up and do our part, but they stepped up too. I would definitely recommend Easter Seals to any vet who needs help. If you want to change your life, you can do it and these people are here to help."
Easter Seals Southeast Wisconsin is focused on the critical intersections of three areas that benefit our veterans, active military and their families – access to health care, meaningful employment and education. Locally, we have launched five different programs to help meet the healthcare, employment and education needs of veterans and service members in our community.
Learn more about how you can help.