Providing services for people with disabilities in Southeast Wisconsin
For more than 80 years, Easterseals Southeast Wisconsin has provided services to people living with a wide variety of disabilities including Autism, Epilepsy, Cerebral Palsy, and other developmental and physical disabilities. We tailor our services to develop each person's skills at every stage in their life to encourage greater independence. Our services promote opportunities for each person with a disability to live, work and play in their community.
In the spotlight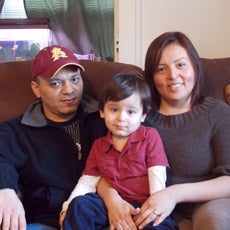 Join us for our new parent training program developed to empower families after an autism diagnosis. Start Early provides education, behavior intervention training, and support immediately after learning your child is impacted by autism. Register for sessions today!
Early Intervention
Intensive In-Home Applied Behavior Analysis (ABA) Therapy
Start Early
Ongoing Services
Behavior Intervention and Consultation
Social Skills Groups
Autism Sports Clinics
Autism Services
Project SEARCH
Summer Respite Camp
Autism Services
Adult Day Services
Adult Recreation Programs
Workforce training program
LilyWorks Commercial Services job training
Guardianship
Care Management Unit
Family Respite and Care
Adult Day Programs
Community Reintegration Programs
Employment Services
Advocacy
Understanding Differences
Education and Consultation
For more information about our programs and services for people with disabilities, please contact us.
Equal Opportunity in Service Delivery Policy Statement
No otherwise qualified applicant for service or program participant shall be excluded from participation, be denied benefits, or otherwise be subject to discrimination in any manner on the basis of race, color, national origin, age, sex, religion, political beliefs or disability. No employee or other person shall intimidate, threaten, coerce, or discriminate against any otherwise qualified individual for the purpose of interfering with any right or privilege secured under one of the applicable civil rights laws, or because they have made a complaint, testified, assisted, or participated in any manner in an investigation, proceeding or hearing under one of the applicable civil rights laws. Program access for persons with disabilities is covered in the Americans with Disabilities Act of 1990 and Section 504 of the Rehabilitation Act of 1973 as amended. Under the Food Stamp Act and USDA-FNS policy, discrimination is prohibited also on the basis of religion and political beliefs or affiliation. This policy covers eligibility for access to service delivery, and to treatment in all of the programs, services and activities. All employees are expected to support the goals and programmatic activities relating to nondiscrimination in service delivery.
To view our privacy practices and complaint resolution process please see the links below: