Maria Carrillo, Ph.D.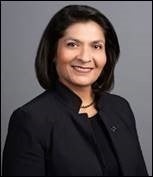 Dr. Maria Carrillo sets the strategic vision for the Alzheimer's Association's global research program as chief science officer. Under her leadership, the Association is the world's largest nonprofit funder of Alzheimer's research and an internationally recognized pioneer in convening the dementia science community to accelerate the field. A noted public speaker, Dr. Carrillo is instrumental in the Association's efforts to lobby both the public and private sectors for increased funding for the disease. As a result of Dr. Carillo's direction, the Association's leadership in Alzheimer's research continues to thrive through its International Research Grant Program which is currently investing $167 million in more than 500 active best-of-field projects in 27 countries. She earned her Ph.D. from Northwestern University's Institute for Neuroscience and received its 2018 Alumnae Award. She completed a postdoctoral fellowship focused on Alzheimer's brain imaging and risk factors at Rush University Medical Center in Chicago. She sits on the governing board of the Global Brain Health Institute and is on the advisory committee for the World Health Organization Dementia Setting Priorities and Portfolio Analysis.

Elected to the Easterseals National Board of Directors in 2020, Dr. Carrillo currently serves as member of the Audit Committee.